It's one of the things Mike does most times that we go out for a meal. He pulls the chair out for me and gets me seated before he sits down. It's such gentleman-like behaviour! It displays care toward me and it shows he cherishes me.
I don't know how the next generation of women feel about these kind of manly manners, but I appreciate it. I cringe when a girl is left standing at the car door in the howling wind while the guy goes round and gets in on his side and only then reaches across and unlocks her door from the inside.
I like my Man's strategy better!
If you are going to marry a woman, love and cherish her now and you can start by small gestures that show you care. There are three particular things that Mike does for me.
When we go out to eat, he pulls the chair out for me and ensures I'm seated before he sits down.
He opens the car door for me. Mike does this about 80% of the time.  If he can't it's no big deal. When he does, I appreciate it. He opens the car door for me, when I am about to get into the car, but when we arrive at our destination, I don't expect him to open the car door for me to get out.
He always stands aside and lets me enter a door first.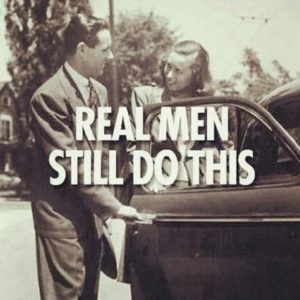 #270 of my 1000 thanks is for a lovely dinner date last night with Mike. We got into some serious recollections of years gone by and it was poignant and meaningful. As we walked away from the restaurant and took a little walk on a balmy, star-lit April evening, we agreed that not only are these the days, but these are the moments to be cherished and enjoyed.
Ephesians 5:33
Each one of you also must love his wife as he loves himself, and the wife must respect her husband.
These are the days!
Keep the smile going!
God bless you!
In His Grip,
Helga xx 🙂