Today Mike and I got our wedding video back from the photo shop – they had been tasked with the job of putting it on a DVD and flash drive. We knew it was going to be really bad qualify. Apart from the video camera being in the hands of an amateur on the day (we had it done for free), it was 1986 and the magnetic tape had been damaged over time and use. We used to watch our wedding video or part of it at least, almost every year, but that ended more than 10 years ago when my older brother unexpectedly died. I just couldn't bring myself to watch the video and see him.  Today, as soon as I got in, we sat down with a cup of coffee and watched it again.
It was in pretty bad condition. About half way through the visuals got scrambled but the audio as fine. It was emotional viewing. Having been married for more than 31 and a half years, there dawned upon us a great deal of perspective. More than that, what struck us the most is the faithfulness of God and the way He has answered the prayers that were prayed in that service. It was humbling. We both got teared up and emotional. God is faithful. He has gone before us. He has blessed us. He has blessed our children. He has provided for us. We have grown closer to Him. I have tried to love, honour and obey. Mike has been faithful and loving and kind and caring.  We want for nothing.
How blessed we were to watch those grainy images and to hear profound words and be able to say God has done it. I think if I can, I will try to get it onto You Tube and put the link here, for a generation not yet born.
It is not our anniversary today. That comes around on 9th August when this year, 2018, we will celebrate 32 years of marriage. But today was a great reminder of the treasure we have in a happy marriage. It is of more value than gold and diamonds. The gift of  marriage God has given us is second only to our salvation and only a whisker ahead of the enormous treasure of our children. They have to be third in the line for without our marriage, we would not have had them. 🙂
One of my favourite wedding day photos: Mike making the speech. My Mom laughing and Mike's Dad on the left of my Ma. What a special photo.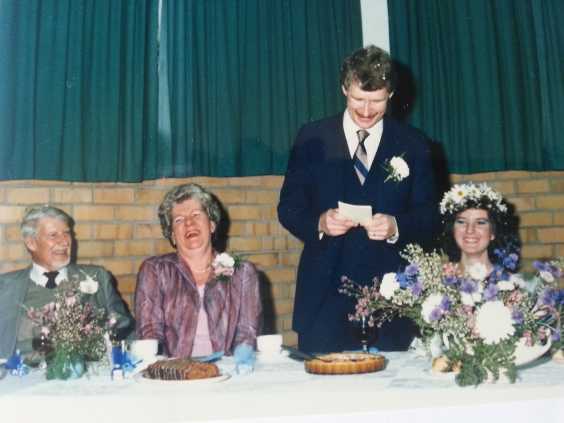 #613 of my 1000 thanks is for the being able to get the video put on a DVD.
John 1:17
For the law was given through Moses; grace and truth came through Jesus Christ.
What a privilege to be on the receiving end of that grace and truth.
To God be the glory.
These are the days.
Keep the smile going.
God bless you.
In His Grip,
Helga xx 🙂
Gym:
Run 5km in 32:45
Walk 5 minutes cool down
Circuit 20 minutes + a few more exercise.