9-09am
After going to bed at about 11-30pm on Saturday night, I woke very early yesterday morning to put meat for lunch in the slow cooker. It turned into a delicious, tender silverside roast and there's plenty leftover for today. 🙂 By yesterday afternoon I was so tired, all I wanted to do was sleep! But Mike cajoled me into going to Simonstown Golf Club with him to play 9 holes…him, that is…not me! My job was to carry the bag! I was to be Mike's caddy. Now there is a saying that goes, "Do today what others won't, so you can do tomorrow what others can't." It's a good saying to remember when you REALLY don't feel like doing something…like me….yesterday, when I REALLY didn't feel like going to watch Mike play golf & lug his golf bag round the course.
To lighten the load, Mike generously left half the clubs at home and off we went! Simonstown golf course is really quite fun if the wind is not blowing,  it's not too busy AND you can hit straight. I could imagine that if you are a bit of a hacker and mis-hit the ball, you could hit a car or a bather on the beach! It's a bit nerve-wracking! About Mike's golf: well you see, it's like this: he hasn't played seriously for about 20 years! About 7 months ago, he had a round in a charity golf day and won the prize for the "most golf" (ie he and his playing partner came last!). From then on, he decided to practice. So he joined the Clovelly Golf Club Driving Range (about R1000 a year) and he has diligently gone there pretty regularly and hit 1000s of balls.  TODAY was the first time since that memorable charity game, which I witnessed, that Mike actually got on the first tee and played a round.  I was interested to see if hitting loads of balls off practice tees actually helps. IT DID! He played amazingly well. Here's the caddy…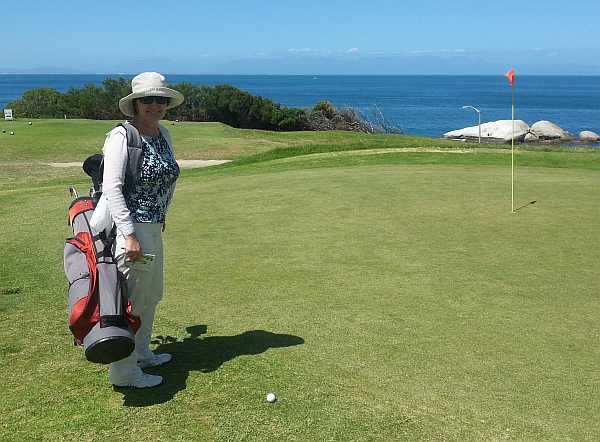 Mike driving off the tee…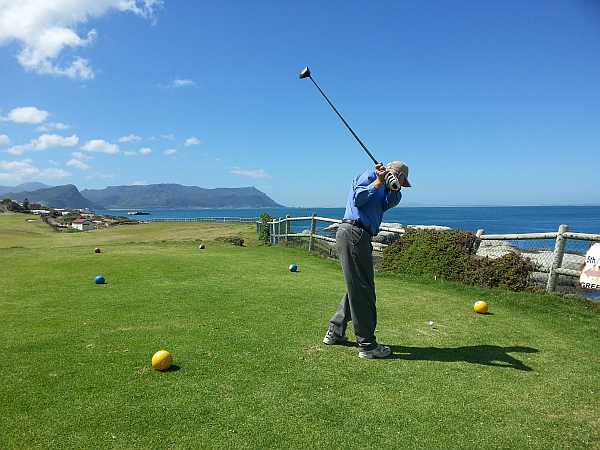 The view from the same tee, looking behind where I was standing…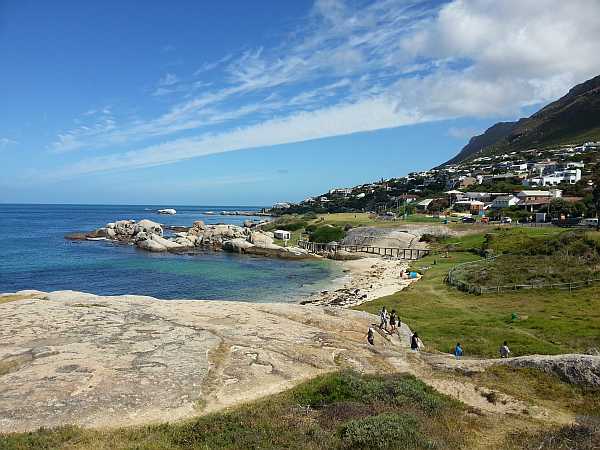 Mike's short game was really good. He chipped from here…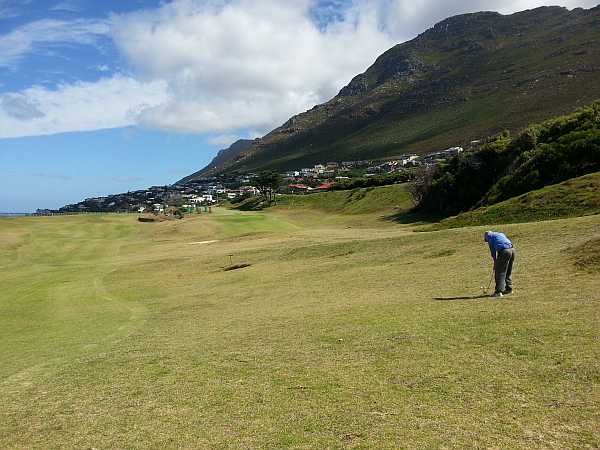 And it arrived here…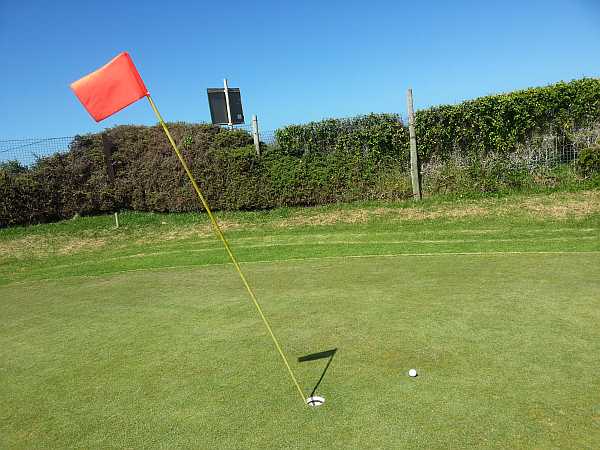 Scorecard…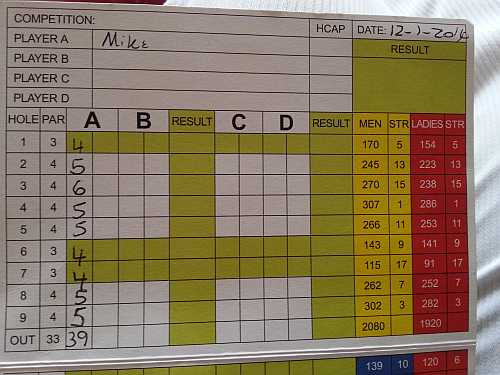 "The more I practice, the luckier I get" Gary Player!
Keep practicing Mike! "My Fitness Pal"tells me that if I carry a golf bag for 90 minutes, I'll burn 500 calories! Now that's some exercise! I forced myself to do it (without complaining!) and in the end we both won. Mike had a great 9 holes and I got some great exercise. Now this is absolutely something I want to pursue in the future. Not playing, but carrying Mike's bag. Maybe we'll start visiting other golf clubs and enjoying all that the Cape golf courses have to offer.
Yesterday at church, Pastor John preached an excellent message of moving forward and not looking back. Loaded with illustrations, it was memorable and helpful. He reminded us of Isaiah 43:18-19
"Forget the former things; do not dwell on the past. See, I am doing a new thing! Now it springs up; do you not perceive it? I am making a way in the wilderness and streams in the wasteland."
Look out for the new things God is doing in your life!
God bless you richly!
In His Grip,
Helga xx 🙂
Gratitude Pic: When in Barcelona, Mike & I went to the local Starbucks and had BIG take away cappuccinos. We bought the cups home with us and had big home made cappuccinos in them last night. #goodmemories…