My Banting recipe for this week is this delicious, simple recipe that calls for only 4 ingredients. Serve with a salad or mixed veggies, or pack in your lunchbox for an scrumptious lunch.
Ingredients:
1 boneless skinless chicken breast
2 tablespoons cream cheese
1 tablespoon  onion, Chopped
2 pieces bacon, Partially Cooked
Directions:
Pound out Chicken breast so it is about half a cm.
Mix together cream cheese and onions and spread cheese mixture over 1 side of chicken breast.
Roll Chicken breast up to conceal cream cheese.
Wrap partially cooked bacon around chicken breast and secure with toothpick.
Place on baking sheet and back for about 30 minutes at 190C.
Broil for about 5 minute to crisp bacon.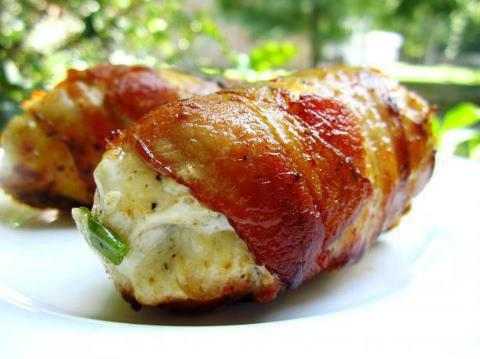 Yummy!
As far as Banting goes, my experience is that I have not lost weight, but I have enjoyed feeling a lot healthier. I don't have a lot of weight to lose. My BMI is 27 and as I wrote some time ago, a BMI of 27 is the new normal! One thing I do know for sure is that everyone is different and everyone's metabolism varies. Weight loss is far easier when you are young, but as you get to and through menopause, the ease of which you can shed extra kilograms is far harder.  You need to be patient with yourself without ambushing your attempts to be healthy.
While I sometimes crave sugar, I try and satisfy the craving with a Banting treat made with artificial sweetener. This however, is not a regular occurrence.  It's a treat because it doesn't happen often.
I wouldn't mind losing 5kg but all my attempts have been in vain. In making peace with my weight and my body shape (a little too much around the thighs and waist), my focus has instead been 4 fold:
Getting and staying fit;
Eating when I'm hungry and stopping when I'm full (not always easy);
Eating as raw and fresh as I can, with as little artificial as possible;
Avoiding sugar, although I have to admit that I will eat some fruit more than a strict Banter would.
Everyone is on a journey – and it is an individual thing. You do the best you can. Look at yourself in the mirror, smile, wave and greet.
Mark 12:31
'Love your neighbor as yourself.'
You have to learn to love yourself.
Many women don't.
Oh yes, try stick to the Green List!
#180 of my 1000 thanks is that I finally got my online banking set up again! It only took 30 minutes in the bank. You know what it's like when you go to the bank and you feel they will look at you as if you are stupid? Why are you here for online banking? You have to do it online! Duh. Well that didn't happen! I had to go into the bank, get a number, get in the queue and get a consultant to help me. It took 5 minutes waiting outside the for the bank to open. 5 minutes of waiting for me turn and 20 minutes with the consultant! Yay!!!
These are the days!
Keep the smile going!
God bless you!
In His Grip,
Helga xx 🙂