For the generations that come, I write the story of how we got our cottage on Echo Rd.
For a very long time, Julian had wanted a little property in Cape Town. In 2014, he began to escalate the plan to buy something small for himself, so when he visited, he could stay in it. I began to be on the lookout for him. Eventually, I got the criteria fixed in my mind. He wanted a place that had a view of the sea and that was walking distance to Fish Hoek Beach. I soon discovered that Julian didn't want a distant view of the sea. He wanted to see as much sea as he could see see see!
Ever since I moved to Cape Town at the end of 1982, I have loved looking at property. I've always looked but seldom been able to buy. I still love looking. When Julian was keen on finding something, he had a very willing looker!  Due to property prices, Julian was considering a plot that he could later build on. The big issue with this was that Julian lives in Johannesburg and if he had a plot, we would most likely be the people who would have to oversee the build. Mike was still working full-time and didn't have the time to even consider it. One day I saw a cottage was on show on Echo Road. It was not a weekend that Julian was down. Mike, David and I had been to Simonstown for Sunday lunch and on the way home, I persuaded them to stop in and have a look.
It certainly had the location Julian was looking for….the sea is certainly visible and it's just over 1km to Fish Hoek beach via the catwalk. That's walking distance.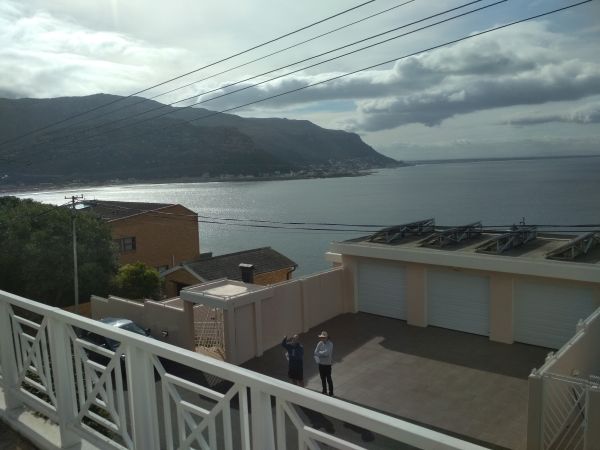 Now I certainly don't know Julian's financial situation. The house was on the market for R2.7 million. I figured that was way out of his budget. It is small. One very little bedroom downstairs and a loft bedroom upstairs. On that first show house day, we were taken by the view and the beautiful wooden floors. It certainly had a lot of character. David commented how wonderful the acoustics were in the lounge. When we went upstairs, I said if we bought it the first thing I would do is put an air conditioner upstairs. It was very hot up there.
We left that sunny Sunday, stopping at a second house for a quick look before going home. I said nothing to Julian. I put the house on the back-burner of my mind and determined that if it had not been sold by the time Julian came to Cape Town again, I would show it to him.
Two weeks later Julian arrived. Mike went to play golf. He shouldn't do that you know. If he hadn't, we may never have bought the cottage. It's all Mike's fault really! Left on our own, I took Julian to see the outside of the cottage. It was still for sale. He took one look at it and he said, "I like it. I really like it." With that he phoned the estate agent whose phone number was on the For Sale sign. The estate agent went by his nickname "Pollie". His phone went to voicemail. No qualms on Julian. He left a message saying he was standing outside the house on Echo Rd and he wanted to know if the seller would be interested in a lower offer. Julian said he couldn't afford more than R2 million. My jaw dropped. Was I really hearing my brother doing business with an answering machine? Julian hung up and within seconds, and I mean, like thirty seconds, Pollie called back. Falling over himself to answer Julian, Pollie was ready to come round immediately so Julian could put in his offer a massive R700 000 less than the asking price! Eventually, a plan was made for us to meet at the house the next day at 1-30pm so Julian could actually see the inside!
The next day we were there by 1-30pm and had a look around. Julian said he wanted to put in the offer. He and Pollie went into the kitchen and Pollie went through the offer with him. Mike and I stood on the balcony and admired the view. We were just chatting there, when Julian appeared at the door. "Mike," he called, "You don't mind if Helga co-signs with me, do you?" This was unexpected. It had not previously been discussed. I was no longer formally employed (I was working on Upwork but the work at that time was only a few hours a week). I certainly didn't have a million rand! We had no debt. Mike had one more year of work and then would retire. He wanted to stay debt free. That much I knew for sure!
"That's fine," Mike said. I knew why he said that. It was because Julian was putting in an offer R700 000 less than the asking price. The owner was never going to accept it. We all knew that. I obediently went inside and Pollie ran through the offer and I dutifully signed, pitying the tree that had given its life for this offer, because it was going to end up being wasted.
I did not go to bed that night pondering the events of the day that I had co-signed an offer to buy a house on Echo Rd.  I knew the offer would not be accepted. I knew we couldn't go higher. Pollie would take the offer to the seller. She would say no. We would not counter offer and would carry on looking for another place for Julian. I lost no sleep or thought over the offer. I slept like a baby.
What happened next, I would never have believed in a million years.
But that's tomorrow's story!
We've had a lovely day today. I did a bit of work, met friends for tea/lunch and watched an episode of the Good Wife with Mike. Dinner is about to happen.
#707 of my 1000 thanks…can I be grateful for the enjoyment we get out of watching The Good Wife? It's so entertaining and laced with tension and curve balls. The risqué bits we fast forward through so we miss those. We do enjoy it, even though sometimes it's The (not so) Good Wife.
The Bible verses (taken out of my Christian Art diary)  for June have all been on Wisdom. We have two left:
Colossians 3:16
Let the  message of Christ dwell among you richly as you teach and admonish one another with all wisdom through psalms, hymns, and songs from the Spirit.
These are the days.
Keep the smile going.
God bless you.
In His Grip,
Helga xx 🙂
Gym:
Fast walk – 30 minutes
The Grid – 30 minutes
Bike ride to cool down – 5 minutes