Sometimes I read a Bible verse and it jumps out and me and gets me thinking.
Proverbs 12:4 did just that today…
A wife of noble character is her husband's crown, but a disgraceful wife is like decay in his bones.
As I read a bit about what 'noble character' would look like, these are the words that popped up: strength, power, faithfulness, diligence, upstanding character, moral integrity.
The crown can also be interpreted as her husband's joy and gladness.
It paints a happy picture of marital love and harmony.
The harshness of the disgraceful wife being decay in her husband's bones was most vividly described in Gill's Bible commentary:
"…but she that makes her husband ashamed, by her levity and wantonness, her negligence and slothfulness, so that he is ashamed to be seen with her, or to be known that he stands in such a relation to her; she is as rottenness in his bones; a constant grief to his mind, a pressure upon his spirits, a wasting of his body, and a consumption of his estate; she is, as the Targum has it, "as a worm in wood", which rots and consumes it."
How dreadful!
Oh yes, be a wife like this – one of noble character.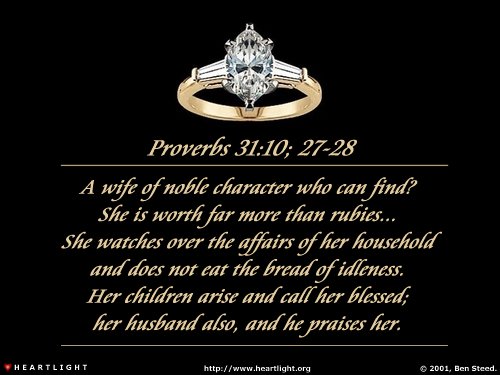 So that was my Bible reminder for today.
Talking of today, it is a perfect autumn day in Cape Town. There is hardly a breath of wind. The sun is shining, the sky is blue. It's not too hot or cold at all. It's comfortable. David came and we  had coffee on the deck. I appreciated it. Mike is out working at Hylton Ross today. He was there yesterday doing training as well.
#246 of my 1000 thanks is for how fast the body starts healing itself. The other day I tripped while out walking. I twisted my right foot and fell onto my left knee, which was grazed. While feeling a bit bruised and tender on the day it happened, 24 hours later it was all much better. So grateful!
These are the days!
Keep the smile going.
God bless you!
In His Grip,
Helga xx 🙂