Don't be the one to complain. That was what Mike said to me the other day. We have joined the other neighbours and complained to the authorities about the endless dust from the building site behind us and Mike is over complaining.
So when the tree fellas cut down the trees behind us and left a trail of rubbish like coke bottles and chip packets, I had it in mind to take a rubbish bag to them and ask them to clean up after themselves.
And when the truck driving school oke insists on taking his driving students in his truck up our quiet street over and over and over again, multiple times a day, I was in the mood to find his number and ask him if he could find another route!
My wonderful husband said: "Don't be the one to complain."
And no sooner had I written the above I heard the truck coming and had time to get a photo of it rumbling past our house!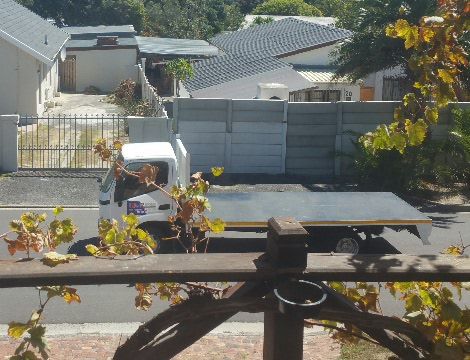 Don't be the one to complain.
Creating an attitude of gratitude and getting away from being a consummate complainer is not easy. It is a choice.
And one thing I've learned over the last day or two when I do want to complain or criticize (there goes the truck again!), it raises in me negative vibes instead of the positive joyful vibes that are more in line with my faith in God.
And so two things I've done. One is I've gone to where the trees have been cut down and I've picked up all the rubbish and secondly I'm changing my mindset so that whenever I hear the truck pass, I remember and say this:
Philippians 4:4
Rejoice in the Lord always. I will say it again: Rejoice!
After all it is only a truck.
#245 of my 1000 thanks is for the truck that passes by multiple times a day as a reminder to me to rejoice in the Lord always!
🙂
Isn't it wonderful to have so few things to worry about!?
These are the days!
Keep the smile going.
God bless you!
In His Grip,
Helga xx 🙂