Over the weekend, I bought a rusty old watering can – it has several holes in it. I sort of imagined it with flowers, so paid the R50 and took it home.
Yesterday, Mike wanted to go to the nursery to try find a drip feed system and I wanted to buy flowers for my watering can. Morgan joined us and together we had a look at all the summer plants. I was looking for something that would flow over the side of the watering can. I am far, far from a gardener. But when I saw a pot with plenty of blossoms overflowing the sides, it looked just like what I needed. The name was Calibrachoa. I asked the nursery man if it was likely to get more flowers, he was quick to say absolutely and it will cascade over the pot….ah, that's the word I need – cascade! I need a cascading plant! The Calibrachoa was perfect. I told the nursery man that all I needed to do now was learn its name. "Oh," he said, "It's a thousand bells."  A thousand bells to go with my thousand thanks! That worked well!
I came home and when the day was cool, I set about potting my thousand bells. I actually looked them up on line and while some people refer to them as a thousand bells, officially their nickname is a million bells. I think a thousand is more accurate!
Final product…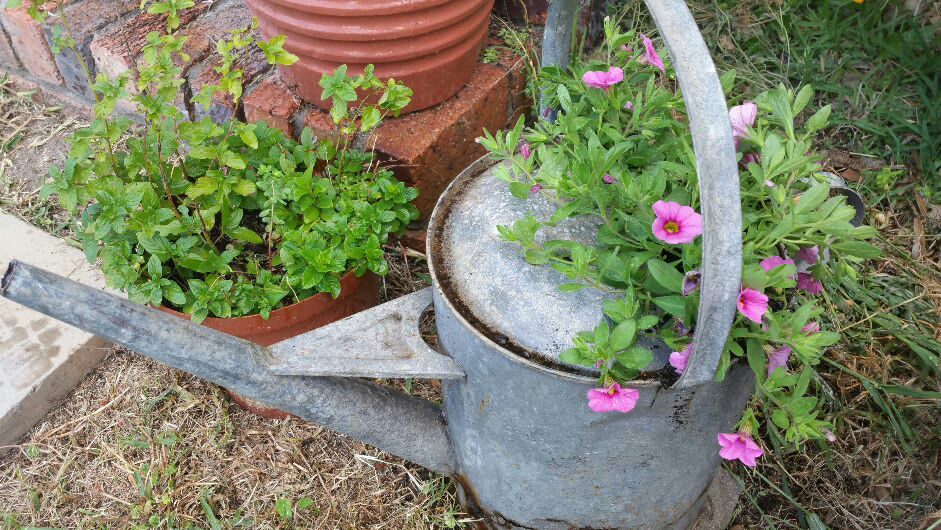 Today it's looking even better with more buds opening.
So it's not difficult to know what is next on my 1ooo thanks:
10. My 1000 bells.
11. Rock pigeons at my study window. The view from my desk looks out over the roof of the cottage and part of the house roof. Between the two against the back wall is a bottle brush tree. Yesterday while I was working three beautiful rock pigeons hopped across the roof wall just a metre and a half from where I was working. It was such a beautiful sight, I appreciated it.
12. Number 12 of my 1000 thanks is for the 2 old men who on their daily walk this morning stopped to greet Truffles. I looked on from my bedroom window, smiling to see them bend down and scratch her head and stroke her back. She loved it. Any friend of Truffles is a friend of mine! 

13. I can add another today. I walked. Mike went to practice at the Clovelly Driving range. He has not done this for ages. Along with winter and rain, life just got busy and his regular visits to Clovelly stopped. So today for the first time in more than a month, I walked down to Clovelly to meet him. It was good to walk that road again.
Galatians 6:9-10
"Let us not become weary in doing good, for at the proper time we will reap a harvest if we do not give up. Therefore, as we have opportunity, let us do good to all people, especially to those who belong to the family of believers."
These are the days.
Keep the smile going.
God bless you!
In His Grip,
Helga xx 🙂