Monday
It was a discombobulated day! What's funny about me calling this blog Discombobulated, is that it is the third blog with that title, so I changed it to A Discombobulated Day only to find that title has appeared once before, so it will be the second. I have had a number of days that can be described as discombobulated. Today was one of them.
The discombobulation came in that the company server that I work on (which is in Wales) was ridiculously slow. It took me 10 minutes to send an email. I was so frustrated.
Add to this that Mike has needed to finish the wiring of the house – sufficient enough to meet with City's requirements  for Solar. He thought he was ready for the electrician but then he read the fine print on the Solar forms and saw he needed a separate box for the solar wiring. He set about doing it. Mike is a genius of a handyman, but this is not work he does often. He can do it, but it takes as long as it takes. Today he told me way in advance that he would have to turn the electricity off for 3 hours. I was trying to get work done before the power went off, but everything was so slow that it was afternoon by the time I was done. All the time I was trying to recover the day and do something useful.
Eventually at about 2pm, I went to gym, leaving Mike sorting out the electricity. When I came back he was in the roof! He soon came down and I handed him tools as he got it far enough to put the electricity back on.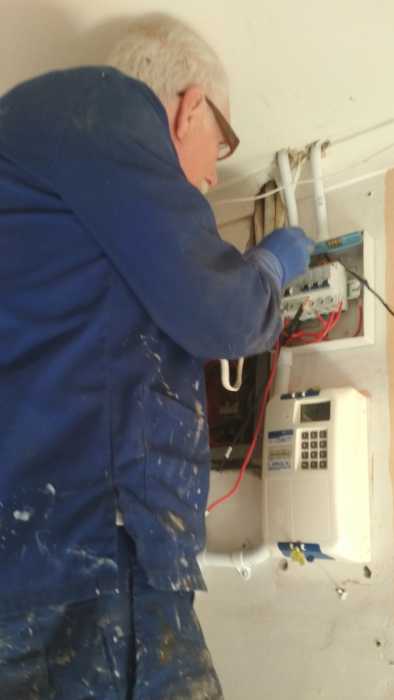 Exhausted!
But done for tonight.
Tomorrow he will finish.
Grateful to have such a talented husband but I need to work on convincing him to leave it to the experts.
Talking of the experts, Werner sent me this picture to show the kerb being finished. He just has to clear up tomorrow..
Another Echo job done.
Luke 2:14
Glory to God in the highest heaven, and on earth peace to those on whom His favour rests.
These are the days.
Keep the smile going.
God bless you.
In His Grip,
Helga xx 🙂
Gym:
1 hour on the bike
30 minutes on the treadmill
A few weight machines.
Braces:
Day 272