The funniest thing happened this morning! There has been this fabulous cold front sweeping over Cape Town, bringing with it heavy showers of glorious rain. The cat was in for a large part of the night, but then Mike woke up hearing she wanted to go out, so he let her. When we woke up at 5-30am, it was pouring down. I felt so sorry for her, so I went downstairs, opened the back door and started calling for her. I thought while I was down there, I may as well put the coffee on. I opened the coffee machine and saw it needed beans. Calling for Truffles and with her on the forefront of my mind, I took out the packet and started pouring it into the coffee tray.
I gasped!! Oh no!! Then I laughed and I laughed and I laughed.
What a thing for me to do.  I had picked up the wrong packet and was pouring cat pellets into the coffee machine!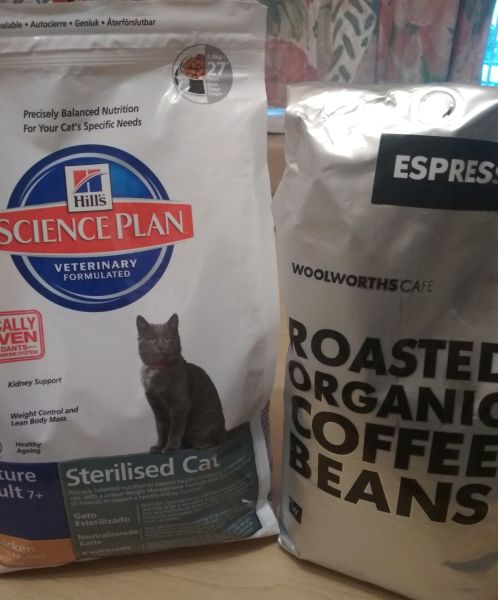 Fortunately, I saw before I had poured in too many! I took the tray out and poured the contents onto the table and then carefully removed each pellet. By then it was absolutely bucketing down and my calls to Truffles were lost in the heaviness of the rain falling outside. I filled up two buckets of water from the stream of water pouring out the tank. By the time Mike came downstairs, I had put the coffee machine back together, but when I told him what happened, he asked if he could double-check the contents to make sure he wasn't going to be drinking ground cat pellet! "Sure!" I said. As a result, he made the coffee!
The cat didn't appear.
We took the coffee upstairs and crawled back into bed.
She did come in later, had a bite to eat and trotted to Mike's office where she curled up in a tight ball and spent most of the day sleeping. I figured that she must have been warm and comfortable when the rain was falling – so much so that my voice was not enough to lure her in.
It's been a cold day and most of it has been spent at my desk working.
#654 of my 1000 thanks is for a cold bucket wash. I know it sounds bizarre, but I came in from gym and then I'm always warm. I took one of those fresh rain buckets into the shower and had a wonderful wash. I ended by tossing the remains of the entire bucket over my back. Not a drop of drinking water was used in the cleaning of this body! It was so refreshing and even though it has been a cold day, I was warm enough to cope with it.
Mike made me hot chocolate. Can you see the duck shape in it?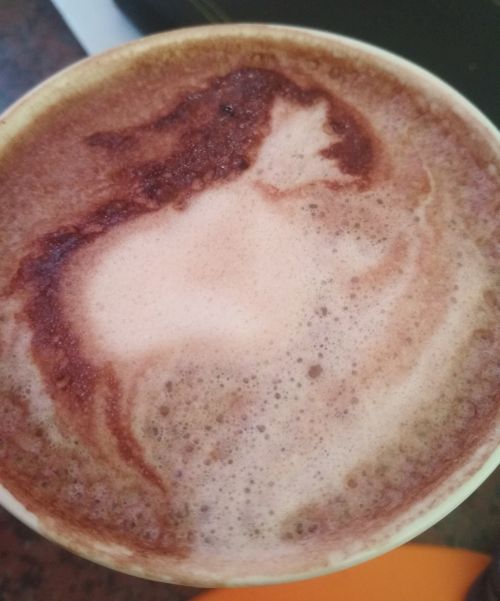 Psalm 138:7
Though I walk in the midst of trouble, You preserve my life; You stretch out Your hand against the wrath of my enemies, and Your right hand delivers me.
These are the days!
Keep the smile going.
God bless you.
In His Grip,
Helga xx 🙂
Gym:
Fast walk with 'rolling hills' – 28 minutes – 3km.
The Grid – 30 minutes.
Cycle down – 3 minutes