Thursday
Today was the day…
The south-easterly wind picked up and blew gales across Cape Town. The white horses of the breaking waves are more visible, but I have seen them a lot worse. They look very tame in the photo…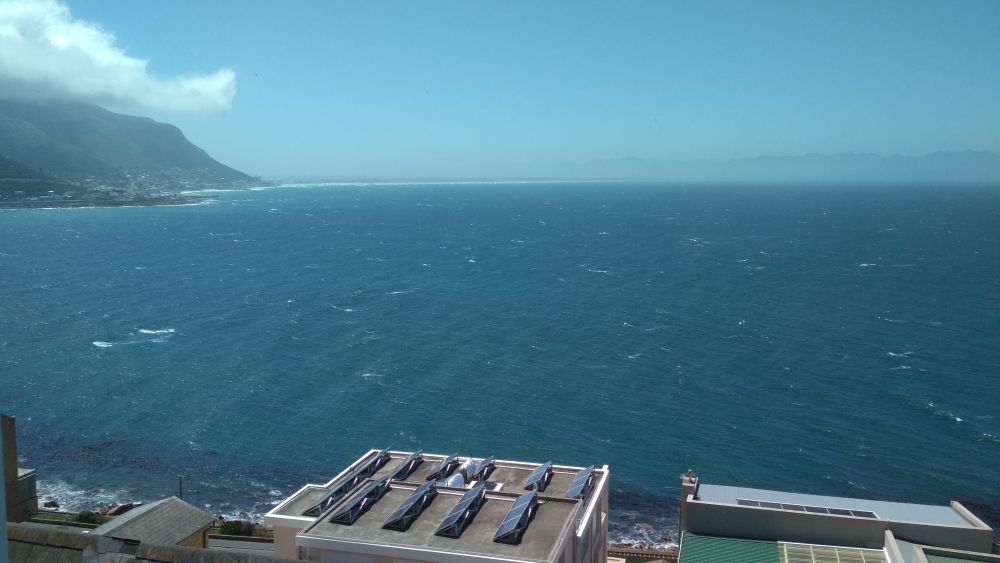 Now that we are living in our new home, which feels like apartment living, we are learning where to avoid  if we don't want to be blown away.  The wind whips around the back of the house and the bird feeders were in its path, so I moved them further into the trees to offer them more protection. Mike designed the house so the balconies would be sheltered from the prevailing wind so it's still possible to find a sheltered nook in the corner of our porch.
Mike took today off. He had a case of vertigo when he woke up, so he left Courage to do the work and he had a rest. By late morning, after a nauzine pill, he was feeling a bit better but really enjoying doing nothing. I think it's his body telling him he has overdone it. By the end of the day, he felt much better.
Brian the plumber came to fit the sink and connect the washing machine and dish washer.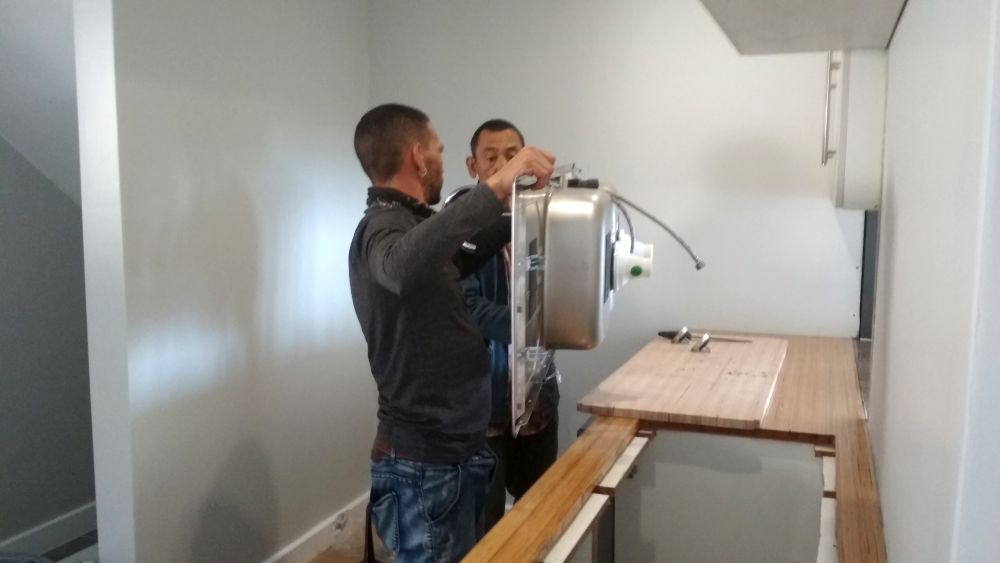 And it was soon all done…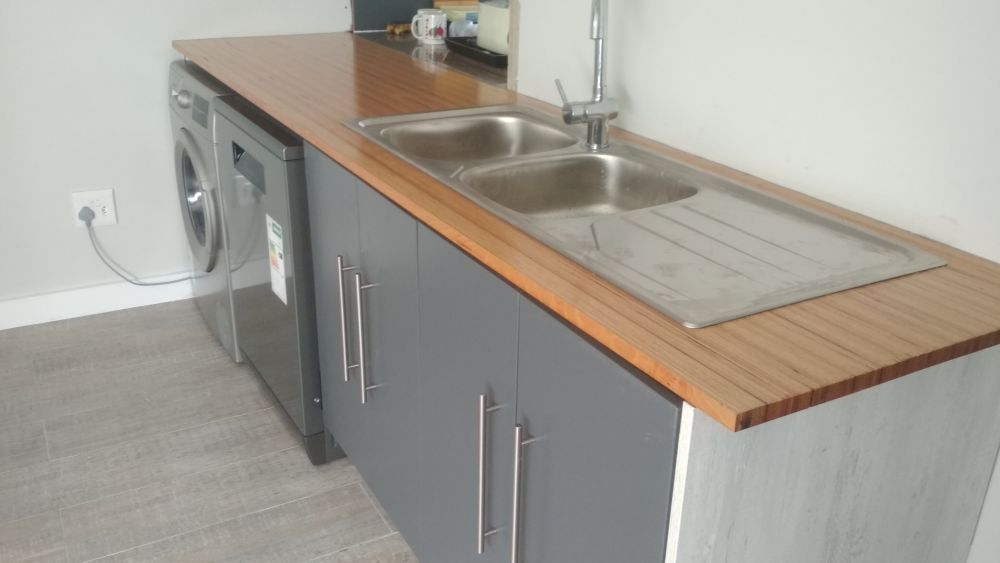 Now to learn how the new appliances work.
Later in the day, Mike and I took a walk to Fish Hoek beach. It was lovely despite the wind. We are trying to get into the habit of walking before dinner. To my horror,  I got on the scale the other day and I have gained far more weight than I imagined. I knew I had gained a bit – I was feeling it, but I never guessed it was close to 5kg! I'm at my heaviest ever!! With my toe (still not better), preventing me from running, I've been sitting working and I guess there has been some building stress along with lockdown eating – combined it makes for easy weight gain. Time to deal with it. 80 steps to my front door already are helping! A walk to Fish Hoek beach entails close to 200 steps to get back home!
Tomorrow is another landmark day. After serving us admirably for a year, the solar panels at the old house are coming down and will be trundled back to Johannesburg in a truck to provide power to Julian's office. They were not compatible with what we are putting up at Echo, so Julian said he would buy them and install them there. The truck arrives Saturday with Julian's furniture. It will take back a few tons of books and the solar panels, so you can imagine we are in for a busy weekend. Julian's daughter and son-in-law also arrive on Saturday.
Covid numbers in the Western Cape –We are going up!  413 new cases in the last 24 hours.
Covid 19 stats – South Africa
Friday 24th July – 13944 new cases (maximum we had in a day)– 250 deaths (245 771 recoveries/169 882 active)
Thur 15 Oct – 1770 new cases – 158 deaths (628301 recoveries/51574 active)
Frid 16 Oct – 2019 new cases – 61 deaths (629260 recoveries/52573 active)
Sat 17 Oct – 1928 new cases – 38 deaths (630436 recoveries/53287 active)
Sun 18 Oct – 1662 new cases – 63 deaths (634543 recoveries/50799 active)
Mon 19 Oct – 1461 new cases – 21 deaths (635257 recoveries/51505 active)
Tues 20 Oct – 1050 new cases – 164 deaths (639568 recoveries/48080 active)
Wed 21 Oct – 2055 new cases – 85 deaths (641706 recoveries/47912 active)
Total cases: 708359   Total deaths: 18741
Ephesians 1:3
Praise be to the God and Father of our Lord Jesus Christ, who has blessed us in the heavenly realms with every spiritual blessing in Christ.
The best is yet to come.
Keep the smile going.
God bless you.
In His Grip,
Helga xx 🙂
Braces:
1 year and 344