Julian comes to Cape Town every other week and usually arrives on a Wednesday evening. It means that Thursday always feels like Friday and that was how today felt. I have to keep reminding myself that it's Thursday. Today was no ordinary Thursday either. It's Ascension Day – the day we remember Jesus leaving this earth and heading back to heaven, where one day we will meet Him.
After meeting Julian for breakfast, Mike and I went home – Mike went to the driving range and I worked.  Later this afternoon, Julian picked me up and we walked most of the way from Fish Hoek to Simonstown where we had dinner.
The evenings have become chilly.
#656 of my 1000 thanks is that I get to make the bed each day. I enjoy making the bed and this evening, I sure did enjoy getting into it! I am tucked up with the electric blanket on. Mike is next to me, also working on his computer. This evening while at the restaurant, his cell phone slipped out of his hand onto the tiled floor and the screen shattered. Mike has been researching what phone he wants next as this one is 5 years old. It's time for a new one. He was disappointed. He loves his old phone.  Now he's looking for his next one.
With winter upon us, our routine of using buckets of water continues, regardless of how cold it is. We fill up about 4 or 5 of these a day…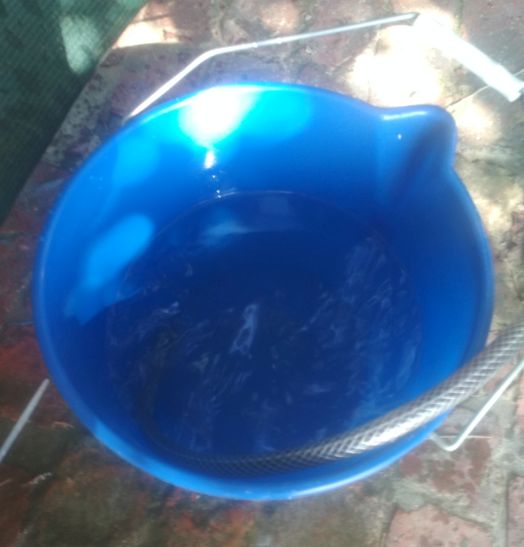 Despite the rain that we have had, the water shortage continues and we still have to try to only use 50 litres of water per day per person. With our tanks it is not difficult but we don't yet have them set up to the house, so we carry the buckets to meet our needs for flushing, floor washing, a bit of laundry washing and other chores. We also have a 25 litre container with a tap fixture (thanks Stacey and Adrian!) in the kitchen which we have been filling with rain water for rinsing milk bottles and cleaning recyclable items. We will also rinse dishes under that water before washing them.  It's such a help.
If I love Fridays, I get another one tomorrow! 🙂
It's time for some chill time.
Psalm 145:14
The Lord upholds all who fall, and raises up all who are bowed down.
These are the days.
Keep the smile going.
God bless you.
In His Grip,
Helga xx 🙂
Gym:
Walk/run 30 minutes – 4.15km
Walk 5 minutes cool down
The Circuit and stepper – 25 minutes