Sunday
Today was the day…
Mike and I walked along the ridge below Elsie's Peak. I will call it the Quarry Hike, because had we carried on, we would have arrived above Glencairn Quarry. Perhaps next time we will go further. We parked at the Shark Spotters hut and walked up along side it, following the rugged path steeply upwards and then south towards Simon's Town, taking as many left turns as needed. Right from the beginning, the views are awesome…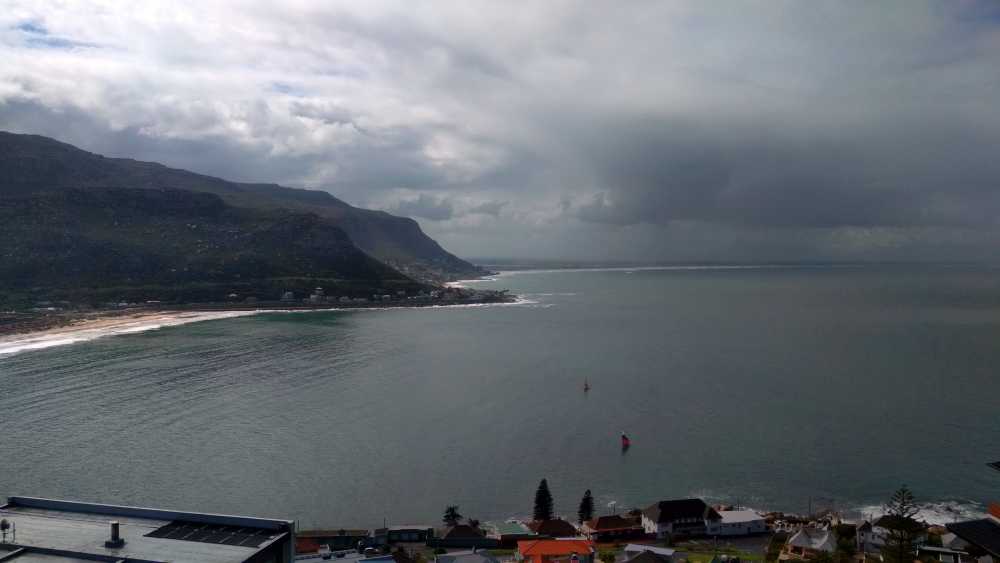 Mike forged the way…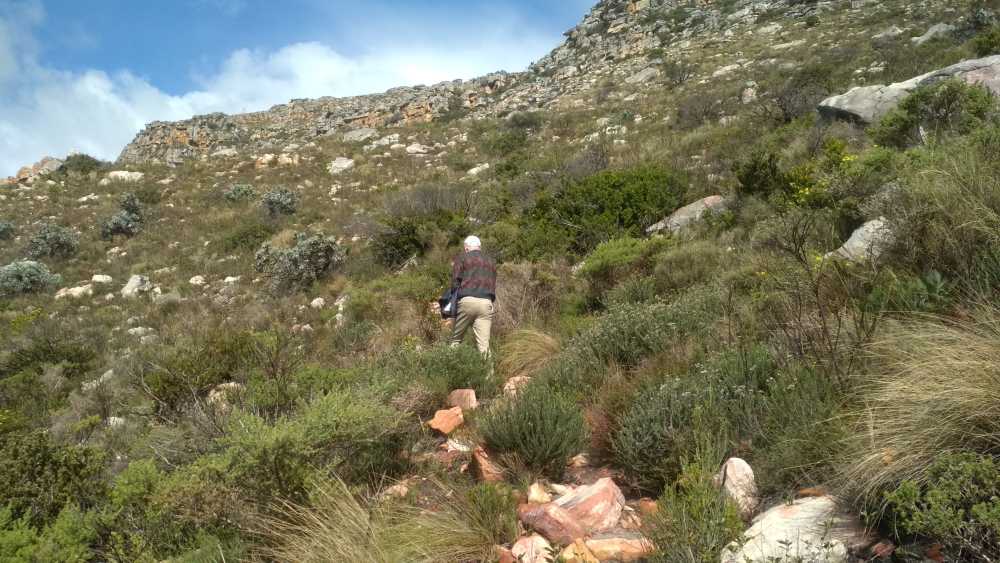 Along the way there are little cairns put up by people who have walked this way and need to be reminded which way to go.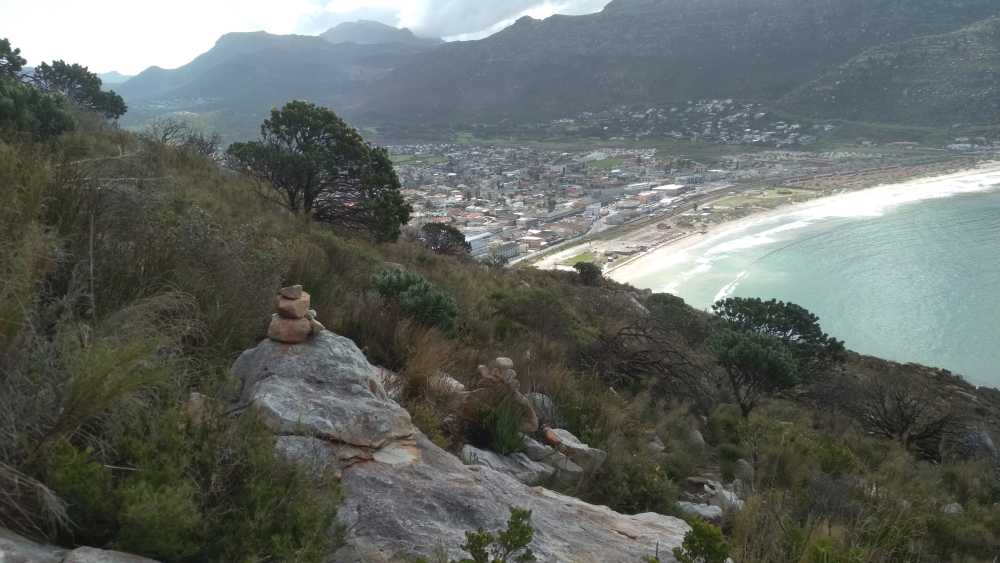 We were excited to walk this path as I had heard people up there before and were very interested to find out how to get to it. Turns out we only walked a couple of kilometres but it's a knee-jerking walk, with a bit of scrambling and tomorrow I am sure to be stiff.  As we moved around the mountain, Echo house came into view…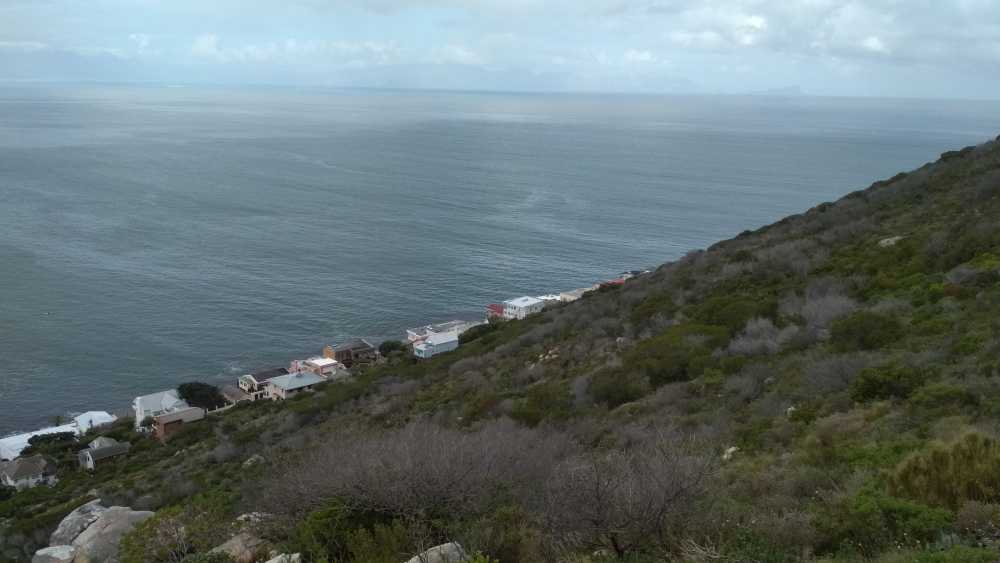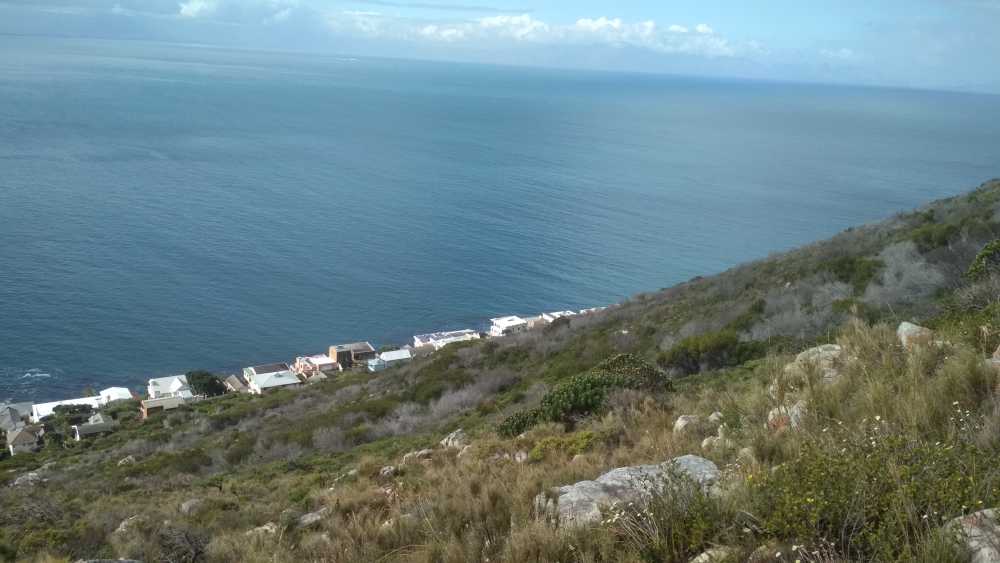 And I took a whole lot of photos as we walked above it…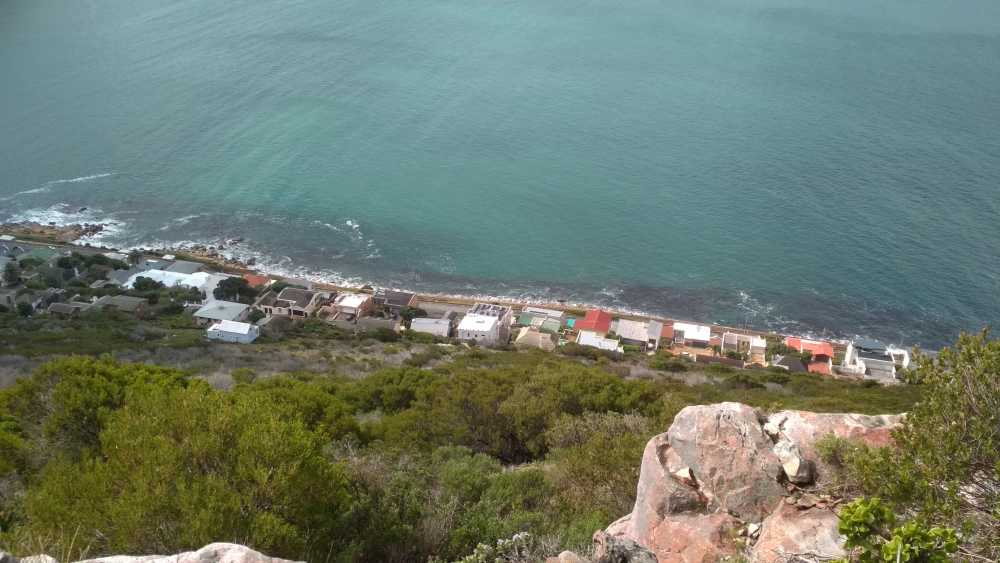 It was here that we phoned David and said come outside and see if you can see us…we waved and bellowed and he waved back!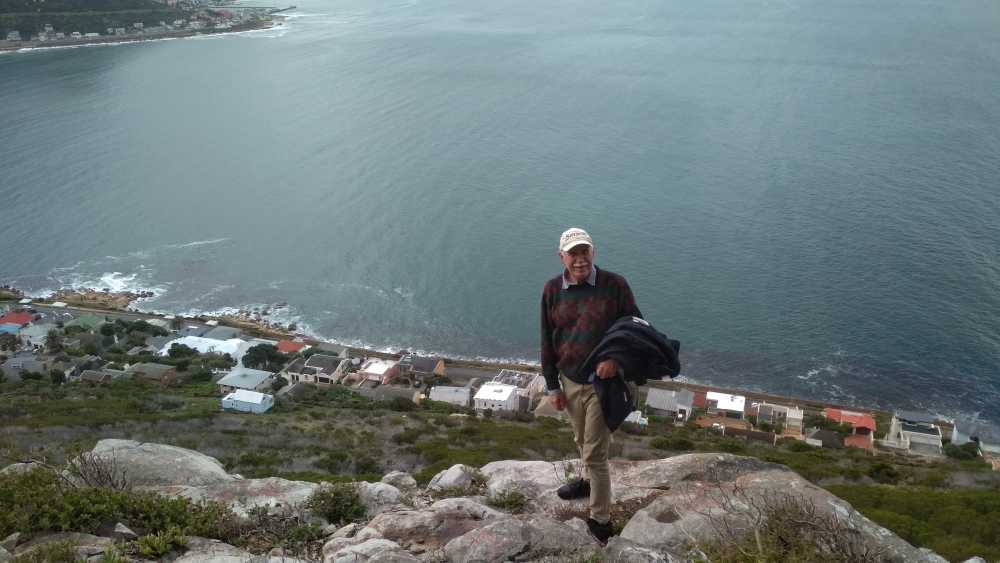 This is the photo from Julian's back door…and is where we walked to…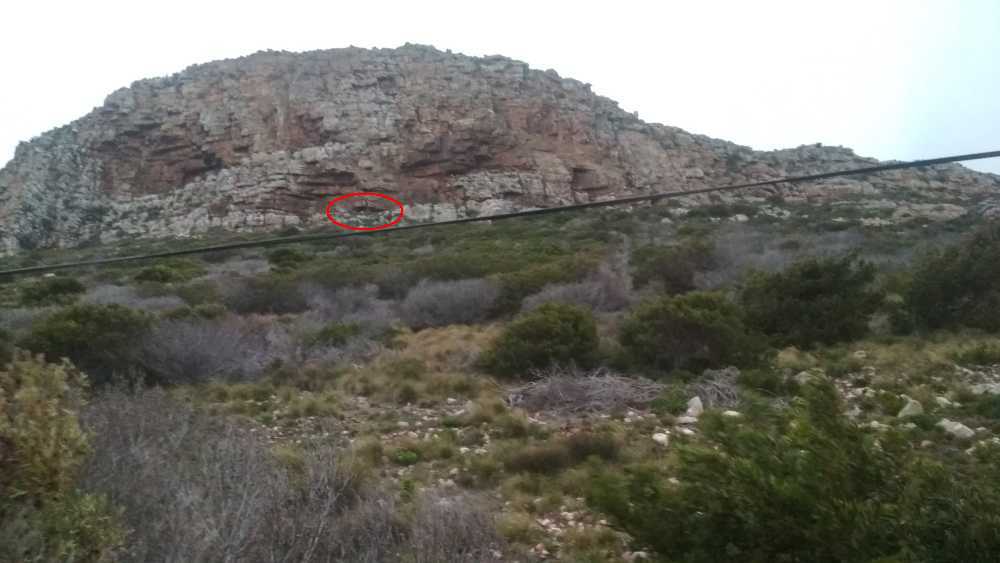 Mike under the overhang…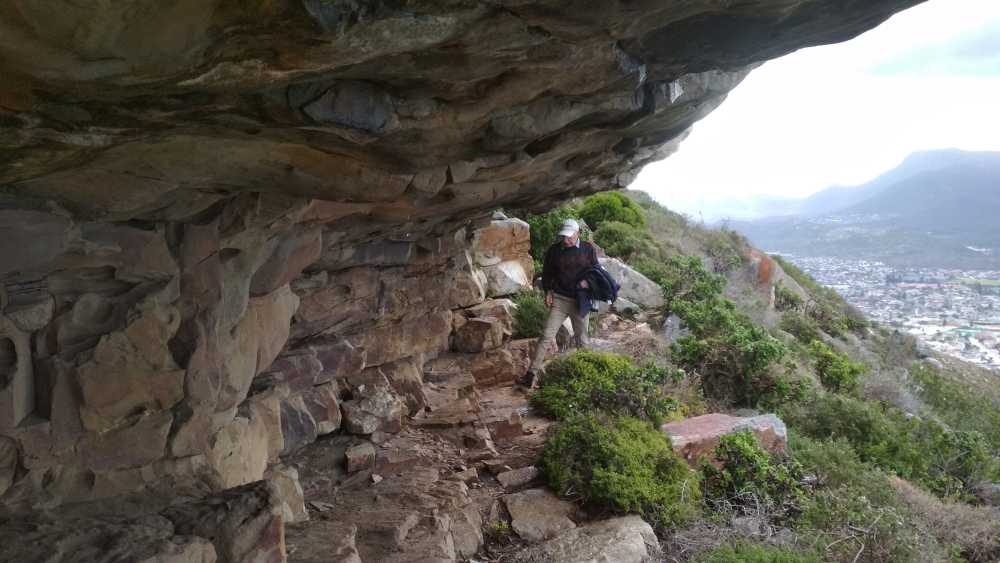 And on his way back…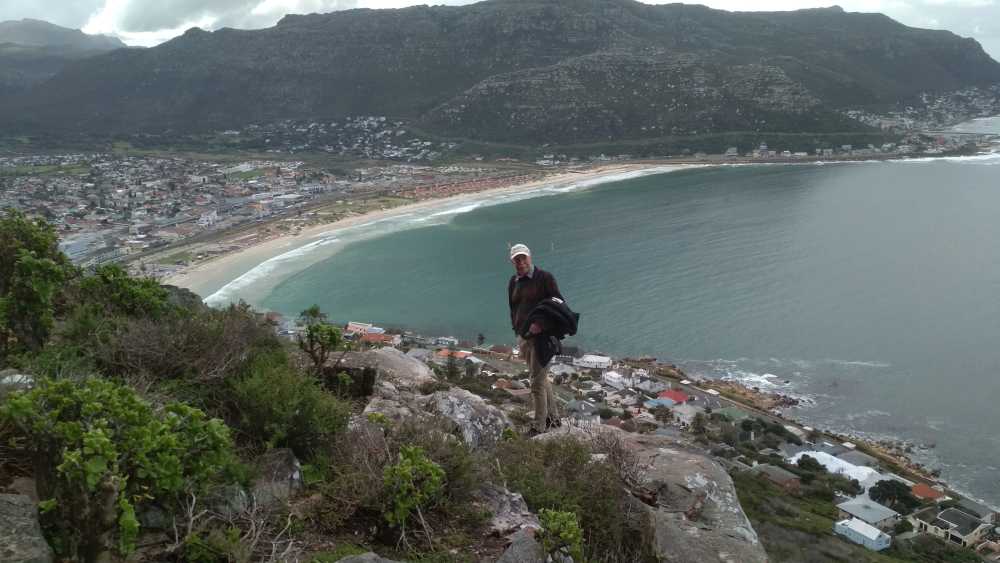 What a wonderful walk it was. Definitely will do it again and hope next time to go a little further. Mike was constantly on the lookout for a way to get down to our house, but it's a bit steep and overgrown. It will need further investigation.
We came home for a late lunch.
Another highlight of the day was a morning chat with Stacey and Elsie. Elsie is becoming so very talkative. In the middle of the conversation, she announced "Hudo has blue eyes." Hudo is her toy dog (Hudo short for Husky dog). Hudo does indeed have blue eyes. Then I said, "Mama has blue eyes" at which she she stared at Stacey's eyes. "Elsie has blue eyes" at which she blinked several times…was she trying to see her eyes?! Then I said, "Papa has green eyes" at which she stared at Adrian's eyes! Earlier on I had said, "Granny has hazel eyes" and I looked closely into the camera. She looked intently. Hmm, hazel is not a colour she is familiar with! So cute! Darling chats!
End of the weekend and a busy week ahead.
Good news is we move to Level 2 lock down from Tuesday AND gyms open!
Corona stats South Africa country-wide –August 2020 –
Friday 24th July – 13944 new cases (maximum we had in a day)– 250 deaths (245 771 recoveries/169 882 active) It's now three weeks since we had the day with the highest number of new cases.
Sunday 9th August – 6671 new cases – 198 deaths (411474 recoveries/137977 active)
Monday 10th August – 3739 new cases – 213 deaths (417200 recoveries/ 135777 active)
Tuesday 11th August – a new low: 2511 new cases – 130 deaths (426125 recoveries/ 129233 active)
Wed 12th August – 2810 new cases – 259 deaths (432029 recoveries/125880 active)
Thur 13th August – 3946 new cases – 260 deaths (437 617 recoveries/123978 active)
Frid 14th August – 6275 new cases – 286 deaths (461734 recoveries/105850 active)
Sat 15th August – 4513 new cases – 121 deaths (466941 recoveries/105035 active)
Total cases: 579140  Total deaths: 11556
A beautiful Bible verse for our build…Stacey has embroidered this verse and has it on her wall
Proverbs 24:3-4
By wisdom a house is built, and by understanding it is established; by knowledge the rooms are filled with all precious and pleasant riches.
The best is yet to come.
Keep the smile going.
God bless you.
In His Grip,
Helga xx 🙂
Braces:
1 year and 277 days.