Sunday
Today was the day…
Mike turned 70! It's such a milestone and we are so grateful. This day is so significant to me.
Firstly, because Mike married when he was 35, we always knew and spoke about the fact that he would be 70 before he was married for as long as he was single.  He is now 70 and this August we will have been married for 35 years. We dated for a year before we married, so he has been in a relationship for longer than he was single. 70 was the special number that confirmed it. Mike is very appreciative of me because he was single for so long.
Secondly, it was 9th May 2017 when I woke up and felt compelled to do something about building right here at this property. It was on that day that I thought that if we don't do something, nothing will get done and I want Mike to celebrate his 70th birthday at Echo. That very thought went through my mind and it compelled me to go, on that day, to 53 Echo to find out who the builder was who was building that house. I found out Werner's name and number and went home. Mike was on leave that day. I told him I had the number and he said, 'why don't you phone him?' At 12 noon on the same day, we had our first meeting with Werner at this site.
And so here we are. What a blessing!
We started the day latish by going to the beach. I had a wonderful swim in big swells. It was fantastic fun. Mike had an excellent run,  challenging himself to keep up with a lady running in front of him. He did, so ended up running at 7 mins to a km which is pretty good for a 70 year old running bare-foot on the beach! Certainly faster than I could have gone.
Home for breakfast with Julian. David finished his 4 hours of teaching and then joined us. And at lunchtime, Adrian, Stacey and gorgeous Elsie arrived. We had a lovely afternoon together and decided to gather at 5pm for tea and cake. Elsie hung out with me for a while and then just before 5,  John and Avril arrived. Perfect timing! Mike's cake…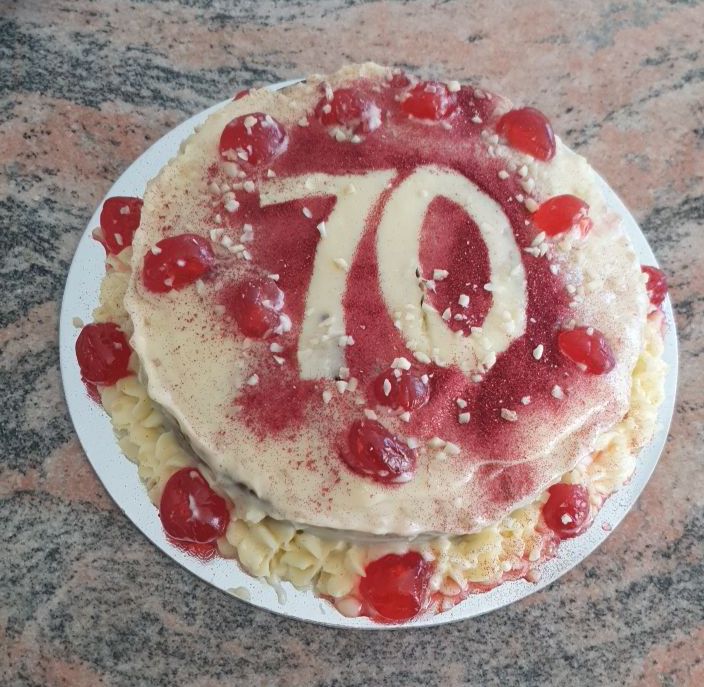 Singing happy birthday for Covid-cautious candle blowing! (Thanks John for the pic)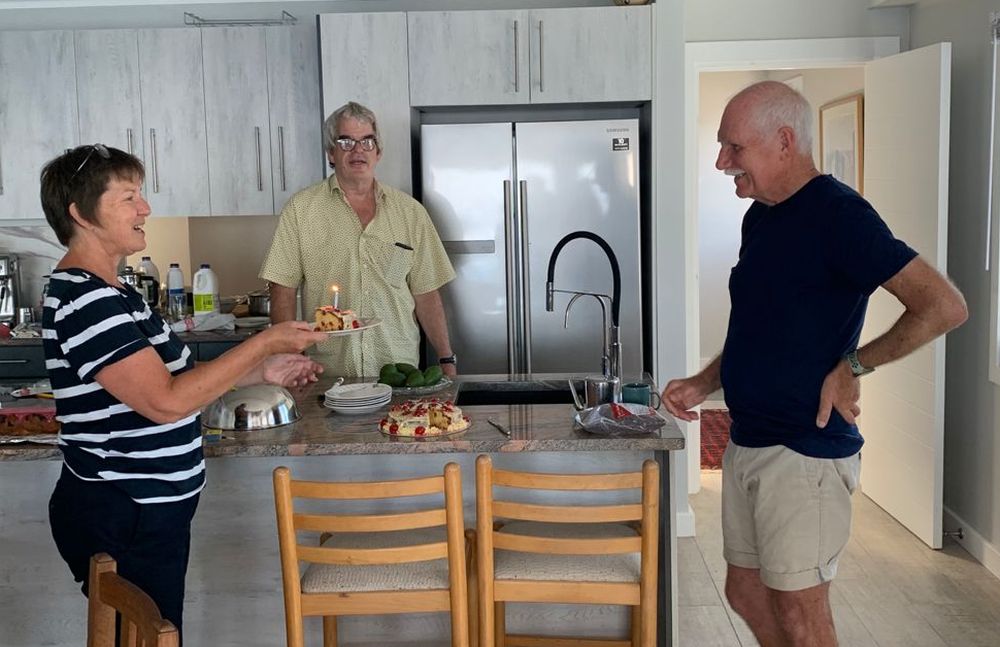 We had a lovely afternoon. John and Avril on the balcony…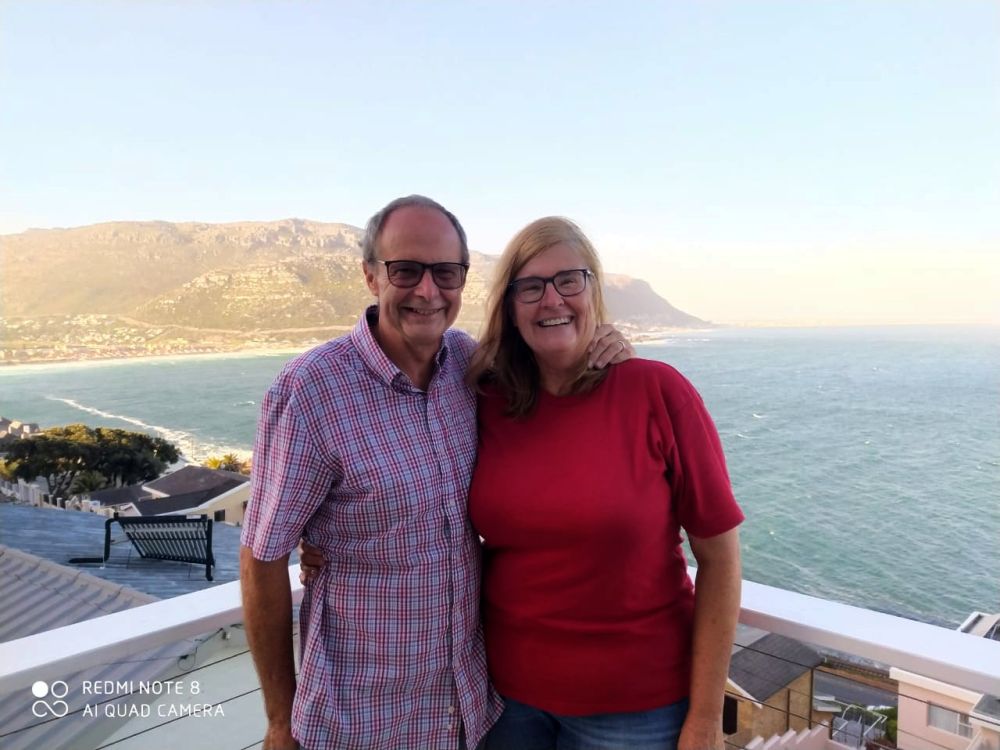 This evening Mike got to try out his birthday present with a spot of moon-gazing.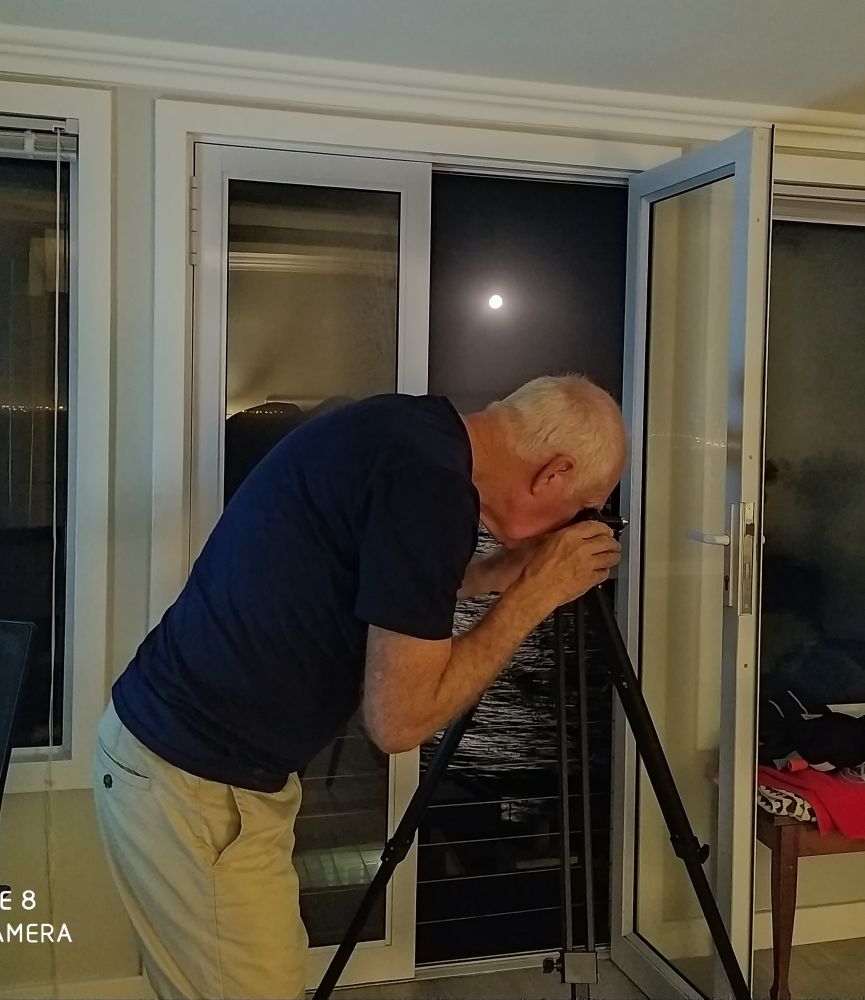 Tomorrow we do it all again as David turns 30! Lots to be thankful for.
1 John 4:19
We love because He first loved us.
The best is yet to come – we are only passing through.
Keep the smile going.
God bless you.
In His Grip,
Helga xx 🙂