It does not surprise me. With the wonderful mountains surrounding the city, panoramic sea views and 3.75 million people to accommodate in between, it is not unexpected that Cape Town is South Africa's most congested city. I witness it first hand being in the deep South (which extends from the Fish Hoek/Noordhoek Valley to Cape Point). There are three ways to exit the deep South (times below are outside of peak times – rush hour adds on a whole lot more)…
Over Chapman's Peak where you pay R40 per way;
Over Ou Kaapse Weg where you could be delayed by a slow moving truck – allow yourself about 20 minutes and be very happy if you get over sooner;
Along the Main Rd. where there are roadworks with a stop and go in place between Clovelly and Kalk Bay – allow an extra 15 minutes, sometimes more!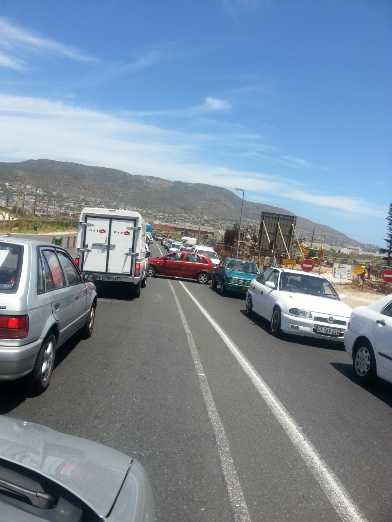 I think one of the solutions is to have an arrangement with employers to work more from home. When you think of how much work can be done from a computer and a good internet connection, for some jobs, like mine, it's 100%. I work entirely from home. I need a telephone line, decent internet and a online clock to log my time. My commute is a few metres. My hours are flexible and I am far more productive than I would be if I had to drive to the office to do what needs to be done. There are no prolonged lunch or tea breaks. No standing around talking to other staff members. Meetings are all done on Skype. It's most productive. I believe that most administrative jobs could be done like this. Employers have to start thinking outside of the box.
For me it has worked exceedingly well and now that I have worked like this, I don't want to work any other way.
Traditionally, working from home was usually either baking or caring for other people's children. It may have been what small scale handymen did, or bookkeepers or very small businesses. I used to sell first aid, which I did from home as a sole trader.  But with the advances in technology, there are many different types of employment which can be done from the comfort of a home office, as long as the computer set up is good.
I am now a freelancer. I charge per hour and take care of a lot of traditional costs that employers would usually have to pay for eg. my work environment. My computer was my expense – I pay for paper, printer and ink. I pay for my coffee , tea and milk. I pay for my cell phone, but my client reimburses me for telephone costs. When we need to have a meeting we Skype. If I have a quick question, I can type a message on Skype as well. I have to take care of my own medical aid and pension plan – none of that is paid. I need to take care of my own tax as well. It saves my client a lot. If I don't work, I don't get paid. I have to accommodate sick leave and annual holidays. I don't get paid overtime, but can work as many hours as I like.
It certainly is a symbiotic relationship and it's one less car to congest things up. 🙂
Psalm 20:4
May He give you the desire of your heart and make all your plans succeed.
These are the days.
Keep the smile going.
God bless you!
In His Grip,
Helga xx 🙂