Yesterday I sampled some Banting biscuits that tasted so very good.  They tasted just like shortbread – but are made largely with coconut. They were very more-ish! Today, when I came to do my last Saturday Banting Recipe I looked up the biscuit recipe I have and they also are coconut based. Great with coffee as a mid-morning snack.
It's Banting comfort food. The original recipe comes from www.thebantingchef.co.za so head over there for lots more amazing food suggestions.
Ingredients

Dry:
6 Tablespoons coconut flour
2 Tablespoons of xylitol
Wet:
1 egg
4 Tablespoons of butter -that's just over 50g if you want to weigh it
1 teaspoon vanilla essence
Instructions
In a bowl, beat the eggs and add the vanilla essence.
Melt the butter and add to the egg.
Mix the coconut flour with the xylitol and add to the wet ingredients.
Mix well until you have a firm dough.
This dough can be used to line a pie plate if you want to make a cheese cake or other Banting tart.
For our biscuit purposes, break bits off and roll them into balls.
Press down with a fork…and into the oven they go.
Bake them in an oven preheated to 180C for 8-10 minutes.
You want them to come out nicely browned.
Allow them to cool on the baking tray.
Serve at teatime!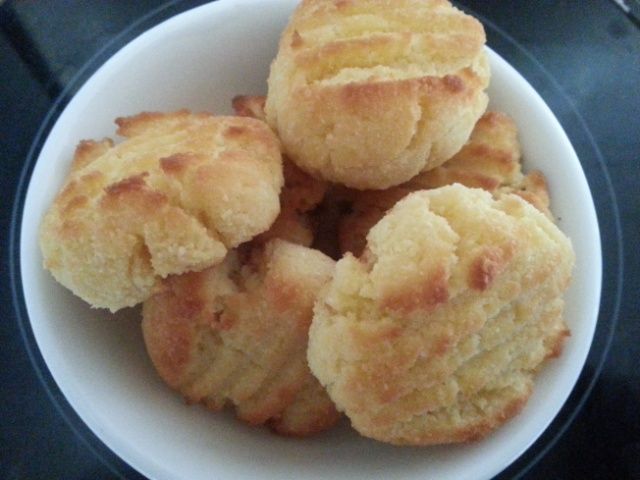 Yum!
Ecclesiastes 8:15
So I commend the enjoyment of life, because there is nothing better for a person under the sun than to eat and drink and be glad. Then joy will accompany them in their toil all the days of the life God has given them under the sun.
# 212 of my 1000 thanks is for lazy Saturday mornings with great cricket – South Africa playing New Zealand – SA won comprehensively.
These are the days!
Keep the smile going.
God bless you!
In His Grip,
Helga xx 🙂