Wednesday
Today was the day…
That was warm in Cape Town. Temperature went way into the 20s and it felt decidedly summery. I washed our linen.
I did 6 hours of work.
The bath was bricked in. The plumbers left. The builder arrived to assess work needed to put the basin back in. The builder was horrified at the plumber's work.  Apparently the wall on the right is wonky.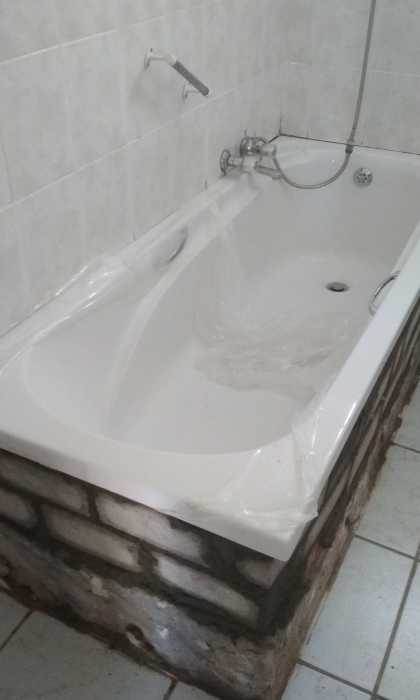 Que sera sera! At least it's not Mike's problem. The insurance will deal with it all.  One thing it has convinced Mike of and that is he now says that the only bath that is going to be installed at Echo will be free-standing. 🛁😁
I walked this morning, the long route, that I haven't walked for months. I did the very steep Harrington Rd loop which is about 4.5km. Climbing Harrington Rd really showed me how much fitness I have lost during this lock down. I puffed and panted my way up the hill. After getting to the top, I started jogging down all the downhills to get home. It was great to make my muscles work, but it certainly was tiring. I have to admit running with a mask is even more difficult. I took it off when there was no one around. As I dodged people, I found myself thinking, "I'm avoiding people like the plague!"
Um, yes.

What an origin! The plague may be wiped out but another deadly infectious disease has risen to take its place.
Corona stats
Wednesday 13th  – 724 new cases – 13 deaths
Thursday 14th – 665 – 19 deaths
Friday  15th – 785 – 9 deaths
Saturday 16th – 831 – 14 deaths
Sunday 17th – 1160 – 3 deaths
Monday 18th – 918  – 22 deaths
Tuesday 19th – 767 – 26 deaths
It was a relief to see the new cases drop yesterday.
Psalm 18:6
In my distress I called upon the Lord, and cried out to my God; He heard my voice from His temple, and my cry came before Him, even to His ears.
These are the days.
Keep the smile going.
God bless you.
In His Grip,
Helga xx 🙂
Braces:
1 year, 189