2-14pm
It was  Friday 30th September 2011, three years ago today. I woke early and went downstairs to have my prayer time. But I was not happy. Overwhelmed by an unexplainable sadness, I just didn't feel up to the day. I wasn't sick. I felt well in my body but extremely melancholy in my spirit. Emotional, probably hormonal, I plonked myself down in my 'prayer chair' and thought of the day ahead. It was Friday. Fabulous, funfilled Friday! Every Friday was a good day. Usually, I would enthusiastically bounce off to work, a spring in my step and a smile on my face. With extra fanfare I would present the Rise and Shine show…after all it was Friday – the weekend!
But on this day, I couldn't do it. There was nothing particular wrong. I was just miserable! "Oh! Lord," I lamented. "I can't do it! How can I go and do the show all happy and joyful when I'm feeling like this? I can't do it! What am I to do? I'm feeling so terrible. I'm so miserable. I'm so unhappy. The last thing I feel is fabulous and funfilled. I can't do it. Please help!"
And then something absolutely remarkable happened. I got a thought. It went through my head in a clear and concise manner. There was no doubting it. It was as clear as crystal "Go to the Psalm of your age."
That was strange…the Psalm of my age. Just over a month later, I would turn 47, so I started paging in my Bible to Psalm 47. There was the 'thought'  again – "No, you are not 47. You are 46. Go to Psalm 46″.
Go to Psalm 46. Ah, "Be still and know that I am God." That verse is in Psalm 46. I thought that was where I was headed. I got to Psalm 46 and I started reading…it's a wonderful psalm. Starting with "God is our refuge and strength,  an ever-present help in trouble", I carefully read each sentence, wondering which one God had for me.
I got to verse 5 (I'm born on the 5th) and what I read made me dissolve into tears.
"God is within her – she will not fall – God will help her at the break of day."
Never before and not since, have I had God speak to me so clearly. His Holy Spirit whispered in my mind and gave this verse to me at the moment I needed it most. I dissolved into tears, but instead of tears of sadness or frustration, they were tears of wonder and of joy. Thank you Jesus. I was at my lowest and with this promise, just knowing You are with me and that You will help me, I know that I can leap into today and it will be the most fabulous, fun-filled Friday ever!
God is faithful. When you are in need, call to Him and He will answer you.
That became a wonderful 'stone of remembrance."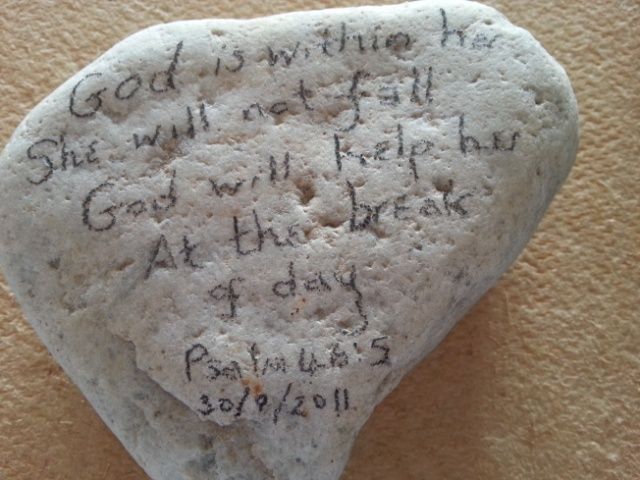 It was a spectacular moment in time when the Holy Spirit came to comfort and reassure me. He is always with each of us. He longs to comfort us. He rises to show us compassion. The stone stands to remind me of God's unfailing love for me. I wallow in His love. The same love He has for me, He has for you.
Keep the smile going!
God bless you!
In His Grip,
Helga xx

Gratitude Pic…David returned from his  road trip late last night and spent the night at home. It was such a treat to be able to cook breakfast for him this morning…..