1-19pm
I am a SPORCLE fan. Sporcle is a website – www.sporcle.com and it's the home of general knowledge quizzes.  One of the main parts of Sporcle that really scratches my itch for learning are the maps of the world. They give you a map and you have to fill in all the countries. So I've learned all 197 countries of the world. Given individual maps, you eventually learn all the countries, from massive Russia to tiny Kiribati. You find out where Mongolia is and how to spell Kyrgyzstan. You realise there's a place called Tuvalu and acquaint yourself with Andorra, Bhutan and Cambodia. From far north to far south, from east to west, you learn the countries of the world. It's such fun and so empowering! When a country comes up in conversation, you at least have heard of it.
The real challenge comes when you click "Countries of the World" & Sporcle spews up the map with all 197 countries listed. The map is squished and  all the names of the countries you put down end up very close to one another, until you can't see the countries themselves. As a result, you don't know what you've missed and you just can't finish in the allotted 15 measly minutes. I have tried and tried and tried. TODAY WAS THE DAY I FINALLY SUCCEEDED….and with 3 minutes to spare!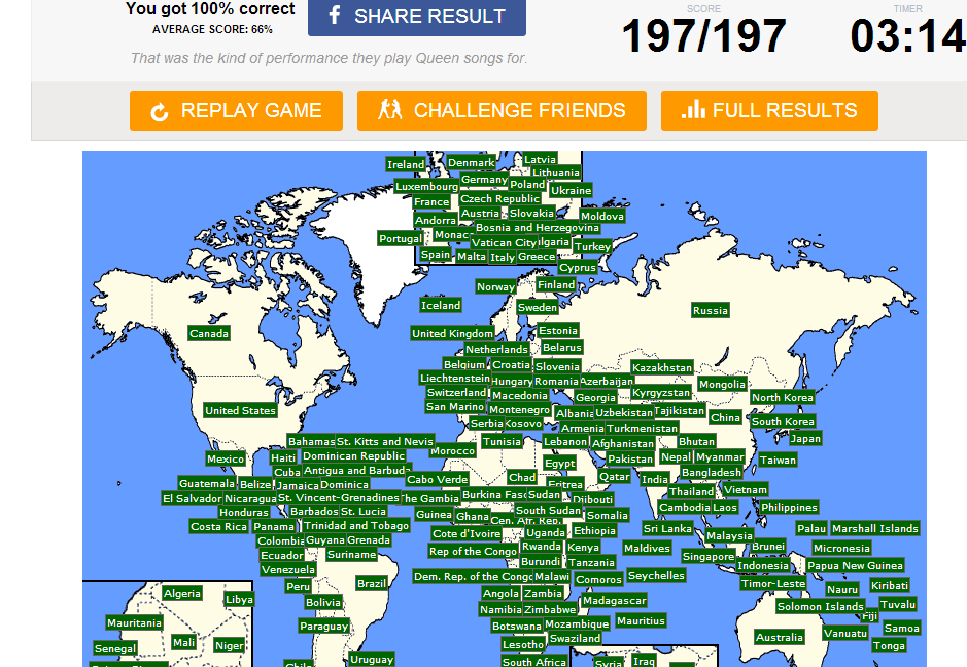 I realised the trick is to start with the larger continents and end with South America, which only has 12 countries. Sporcle fans, you have been challenged!
So off you go!
Have a fabulous weekend, sporcling it out!
On Top of the World!
John 3:16
For God so loved THE WORLD that He gave His only Son that whoever believes in Him, will not perish but have everlasting life!
The World! Every country of the 197.
Keep the smile going
God Bless you!
In His Grip,
Helga xx

Gratitude Pic – Ladies Bible study this morning – we are on track to Breaking Free!