7-24am
Quite personal, this is, but I'll say it anyway! There's one thing about Mike that has always endeared me to him. It's not something I can identify with; neither is it something that I feel I can jump in and participate in. But it is something I will always admire in him. It is how he treats the poor. When it comes to the poor in Cape Town, I feel like Paul when he says in Romans 7:15 "I do not understand what I do. For what I want to do I do not do, but what I hate I do". South Africa's traffic lights seem to be the domain of beggars and sellers wanting something. We live in a society of 'car guards' and needy souls who sit outside shopping centres, rubbing their stomachs in hunger and asking for us to buy food for them.  Then, we also have a stream of shabbily dressed, young, unemployed men who ring our doorbell at all times of the day (up to 10pm at night). They come with stories of hardship and suffering. They weave tales of ill health, hunger, misfortune and funerals. We seem to be approached on every side, multiple times a day and it, for me and for Mike becomes wearisome and challenging. The difference between Mike & I is that he pushes through the discomfort and helps the person. We sometimes have joked that he has a heart for the poor and I have a heart for the rich! I prefer to help someone who I can identify with! While I am inclined to waive away the beggar at my car window, Mike opens his, makes eye contact, asks the person's name, gives a coin, smiles and says, 'God bless you!' Oh how small he makes me feel. What he does is good. He does what he does not want to do.  "It is a gift," I say. But Mike disagrees. He says "it is not easy". He says "I also don't like it". He says, "I have to force myself to do the right thing, because I feel it is my Christian duty."
There's one thing I know for sure, it doesn't matter where you go in the world, as Jesus said, the poor you will always have with you. We encountered many of them in Europe…sitting on church steps, hands stretched out, on sidewalks with hats ready to receive, outside parks, with meagre belongings…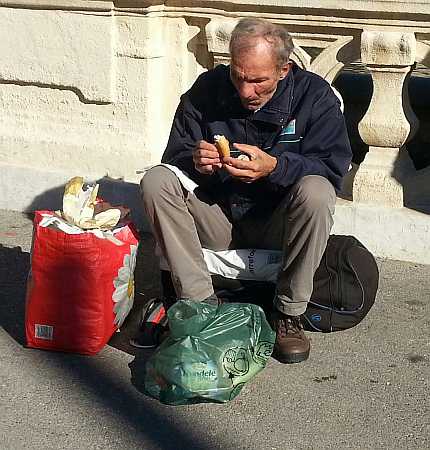 Words of Jesus: "The poor you will always have with you…" Matthew 26:11. How we respond to them is the challenge. Mike isn't perfect, but having lived with him for 27 years (& 4 months!), he has been consistent in his attempts to reach out to those less fortunate than himself and to try and make a difference in their lives. He's a great example. It makes me want to do better!  But I am slow in learning and stubborn hearted! Writing about it is actually good for me. Today, no doubt there will be another opportunity to look a needy person in the eye, smile, treat him/her as a unique individual, made in God's image & take an interest. Maybe, if I'm prepared, I'll have food or a coin to make a difference to their day. Proverbs 19:17 has always struck a cord with me:
"Whoever is kind to the poor lends to the LORD, and He will reward them for what they have done."
Kindness!  I'm sure I can be kind!
On a different "note"…here's another pic of Truffles, stretched out on the piano, enjoying a bit of sunshine..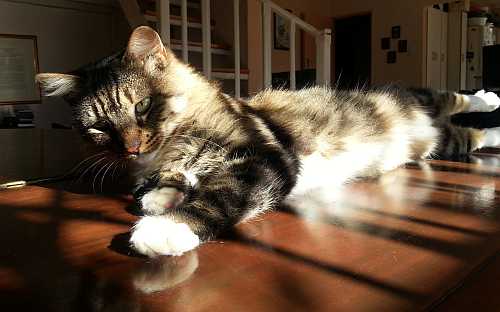 She was very woozy after all those shots the other day, but has bounced back and is now looking fine.
I'm off to enjoy a beautiful sunny day in Cape Town.
God bless you!
In His Grip,
Helga xx