Low Carb on the Cheap – Tuna Muffins
It is true that it can be expensive to follow a low carb lifestyle. It can get a lot cheaper by buying in bulk, cooking and freezing. Cheap low carb, high protein foods such as pilchards, liver & kidneys are widely available. Tim Noakes suggests brains as well, but 'ugh' comes to mind! There must be enough cheaper options than eating brains. I googled it and couldn't find too much good stuff about them.
Eggs must be a staple part of a LC lifestyle and they are really inexpensive considering their return. Do try get free range though. You can stretch meals by adding high protein foods such as chicken to lots of vegetables. Strip chickens to their bones, boil the bones for broth and stock to use later in soup. Those are a few suggestions. I am sure there are more. You can leave yours in the comments so we can all benefit.
Today I found a fabulous little Tuna Muffin recipe which is not that expensive and will go down well with Low Carb bread (although the bread is far more expensive to make). You may want to scrap making the bread and serve this with a large egg salad and avocado pear. That will make a great combination.
TUNA OR SALMON MUFFINS

(from the website:http://genaw.com/lowcarb/tuna_muffins.html)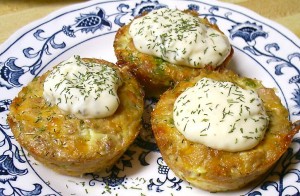 2 cans tuna or salmon, drained well
2 eggs
1/4 cup celery, chopped fine,
1/2 onion, chopped fine,
1/4 cup green pepper, minced,
1/2 cup cheddar cheese, grated (more if you prefer)
Salt and pepper, to taste
Mix all of the ingredients and spoon into 6 well-greased muffin cups. Bake at 180ºC for 30 minutes until puffed, set and lightly browned around the edges.
Makes 6 servings
Can be frozen
Per Serving: 109 Calories; 8g Fat; 12g Protein; 1g Carbohydrate; trace Dietary Fiber; 1g Net Carbs
Great for breakfast, lunch or a snacky Sunday supper.
I know of a number of people who are going through a difficult time right now. If you are too, these words are for you,
Deuteronomy 31:8 "… It is the LORD who goes before you. He will be with you; He will not leave you or forsake you. Do not fear or be dismayed."
Keep the smile going.
God bless you!
In His Grip,
Helga xx