2-19pm This morning dawned with the promise of no rain. Look! Blue sky!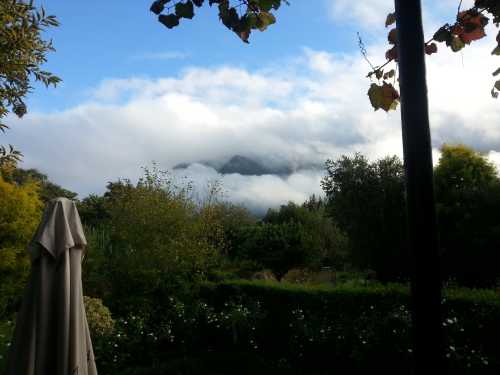 After breakfast, Mike & I headed off up the hill to the golf club.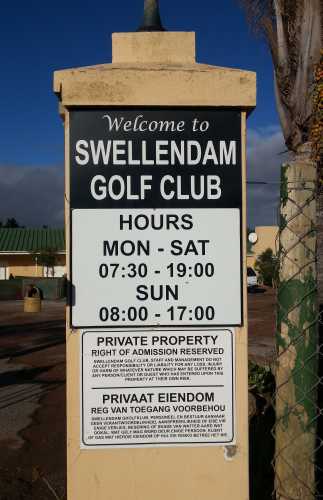 At about 9-30am, Mike was on the first tee….
Over the last few months, a lot of rain has fallen in the Swellendam area, making for thick lush fairways and magnificent greens. The course is a long (we walked 10km altogether) 9 hole course, played twice with the tees in different positions for the second 9. It is country golf at its best. Surrounded by mountains and farmlands, weekdays, I'm sure you regularly will only have birds for company with a few cows peering over the fence…
The fairways sweep broadly down towards the valley and then you turn around and find yourself playing back up again towards the clubhouse. With all the rain, parts are waterlogged and mud spatter is common. I spent a lot of time cleaning the club heads…
One of the things that struck me about this golf course is the huge number of trees that have possibly recently been planted. Trees from saplings to fully grown ensure that in future years far more groves will appear on the course, making it more picturesque and in part more challenging.
There is a tree with a difference – a cell tower tree, which is a landmark…just know you want to aim for the left of all these trees…
The clubhouse is simple and unextravagant…
At halfway house, Mike & I usually enjoy a cup of coffee, but it was not available today. I think all the staff were out on the course, cutting the grass and improving the course ahead of Saturday's competition. To be honest, I think the golfer will prefer cut grass to coffee…
With the cloud still hanging low over distant mountains, we enjoyed lovely overcast skies – no sunburn today. We marched enthusiastically from hole to hole, loving the rural feel and wide open spaces…(my gratitude pic)
One of our favourite holes became the 7th/16th which is fraught with water hazards…
We had a lot of fun at that hole. The views from the next just lovely…
It was altogether a fabulous morning of golf.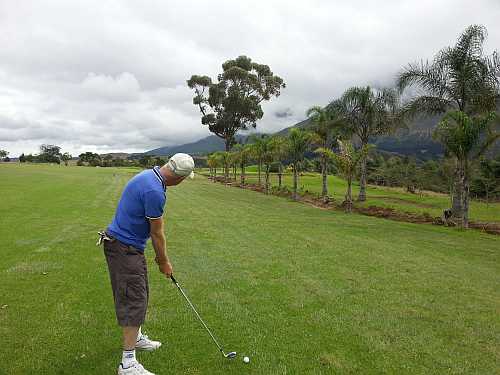 Swellendam Golf  club offers wonderful country golf on a well kept, pristine course. Don't expect too much luxury inside the clubhouse, but what I have learnt is it's what happens on the fairways and greens that counts.
Gotta love Psalm 23
2. He makes me lie down in green pastures, He leads me beside quiet waters…
That was our experience this morning!
God bless you!
In His Grip
Helga xx