7-42am
Today is a busy day. The blessing of it all is that it is Stacey's 26th birthday! What a gift she has been to Mike & I. Born at 5-30pm at Paarl Hospital, she arrived on the day she was due, weighing in at 3.9kg. She was big and healthy and got on with the job of growing up immediately! Stacey is a deep thinker…like her Dad. She has a quiet nature… like her Dad. It's just so easy to make Stacey laugh… like her Dad. She is sensitive and loving and kind…like her Dad. She is technical…like her Dad! She is her Daddy's little girl and they have a unique and special relationship. Is there anything Stacey gets from me? Absolutely! She has wonderful people skills and she looks like me as well!  God has gifted Stacey with a servant heart & we her closest family members are the blessed recipients. She's clever and quirky and practical and altogether lovely. She does amazing things like make android apps, design computer programmes for cross-stitch patterns, changes knitting patterns, writes firmware and she has long technical creative discussions with Mike.  She gets on well with David and does stuff for him that he knows are not my strength… like fixing pants! She and her husband Adrian are best friends and we are continually blessed by having them here in Cape Town for this season!
HAPPY BIRTHDAY STACEY!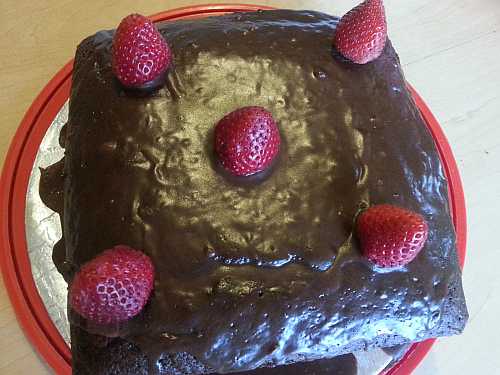 That's the happy part of the day.
In a short while, I leave with my dear friend Riana and her best friend Karin and Riana's mom in law to have a farewell 'funeral' tea for R's father who passed away last week. Oom Daan took a turn for the worst  and after a number of difficult days, he slipped away into the presence of the Lord. Riana was wonderful with Granny and I will always appreciate her support. We both had a lot in common with frail, elderly parents. No more suffering for them.
The last verse of Romans 12. Verse 21:
"Do not be overcome by evil, but overcome evil with good."
Keep at it!
God bless you!
In His Grip,
Helga xx