1-27pm
What a little treat! I was checking out a part of my blog that I hadn't visited in  a while and followed the link to Jason's song…only to discover he's opened it up for 100 free downloads….so go along to this link and try and be one of the 100….
The link to the lyrics is also on my blog. It's fun to follow the lyrics as you listen to the song. Enjoy it!
Today, Mike & I were tempted to skip church and stay in bed, but having a morning quiet time motivates us to do the right thing. It was worth it! Pastor Guy preached a brilliant sermon on guidance. 🙂
Home to make pork chops for lunch. Then we skyped Stacey and Adrian…Love it! Stace showed me the cross-stitch set she got for only about R100. It would cost R400 here!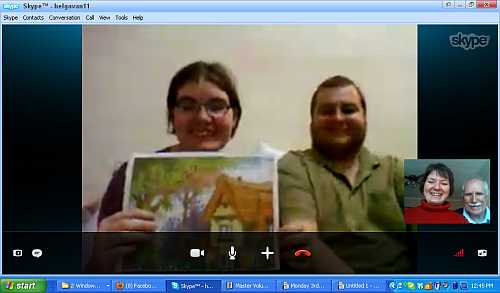 Love this technology! They are doing well in Malaysia. Such a special unique couple….happy with their own company…hard working, loving, caring, and so clever! I'm looking forward to seeing what God is going to do with them. Two more weeks and they trundle from south Malaysia up to Kuala Lumpur. We showed them to Granny who pointed and gurgled with delight at seeing them. Couldn't quite figure out how they got there, but none the less, she recognised them! 🙂
The day has been rainy and gloomy. It is not my nature or personality to feel melancholy and if I am, it won't be for long. Be sad, get over it. Be happy. Life goes on. God has not called us to a life of misery and regret. He wants us to be happy. So today, as I pondered the events of 5 years ago, also on a Sunday, I was heart-sore for a time. Sunday 9th September 2007 was the hardest day of my life. My beloved older brother died.  There are consequences to our actions. Arnold died as a result of his lifestyle, but that does not make his premature passing any easier to handle. Oh how we wish it had been different. But then I am reminded, it is not about now. It is not about planet earth in the 21st century. It is about eternity. That is where the real action is. That is what we look forward to. Arnold is already there. He has arrived at the real deal. He awaits our arrival. He is with my Mom and Dad and others who have arrived before him. He is not gone. He is just not here.
Deuteronomy 29:29 is a good verse to know about…
"The secret things belong to the LORD our God, but the things revealed belong to us and to our children forever, that we may follow all the words of this law."
Horrible things happen in life. But those are not for us to ponder. Those things are the secret things that belong to the Lord. We continue in obedience, knowing that God has got it all under control. He is sovereign. We are in His grip. We are safe.
God bless you loads!
Helga xx 🙂