Thursday
Today was the day…
We moved furniture across to Echo. I didn't see that coming. Werner, the builder made three trips…
It was strange to see the furniture in the building…
And even stranger to see our house so empty. So here comes the truth. I was left at home and did some work. When that was done I went downstairs and did some sweeping. I looked around and started walking through the house. Memories flooded my mind and I found myself filled with emotion. Tears rolling down my cheeks, I recalled the amazing life we have had in this house. I prayed and praised and was filled with gratitude. I don't cry because I'm sad. I cry because I'm grateful. Grateful for 31 tender years of love and growth – 31 years of happiness – 31 years of productivity – 31 years of family life. I close the door on an epic chapter of living here and I open one that feels almost ship-like… and you know how I love cruising!
Amidst my tears, my cell phone rang. Composing myself, I took the call. It was Nazaam from Tile Africa, Paarden Eiland. Of course it was. Yesterday, I received the news that our shower pipe was blocked and that, believe it or not, I was going to need another Pisa tile. There are no more in Cape Town. Stock *may* come at the end of the month.  I no longer worry about this tile. God has supplied and supplied again. What is a third provision in His eyes? I walked down the stairs saying, "I'm not concerned about needing a tile. The Lord will provide again." First thing this morning, I called Nazaam and told him I needed two. There are none in Cape Town, that I know but could he possibly phone one of his customers to whom he has supplied a lot of them and see if they have one or two unused ones? He said he'd phone me back.
Quickly drying my tears, I took his call. He had no success with his customers. No one had spare ones, so he had gone to the back and believe it or not, he had found two far apart from each other. He didn't know how they got there, but he was keeping them for me. So late morning, I drove across to Tile Africa, Paarden Eiland, armed with the money and a large Aero Mint bar for Nazaam and I picked up the two tiles. The plumber was relieved. The builder was relieved. I was happy! I think we only need one so we now have a spare.
I returned to Echo to deliver them and spent the afternoon there. The door people came to ensure the doors were working properly. After the tiling had been done on the balcony, there was some concrete shards that prevented it from opening. After a good servicing, it is now working well… this is why I say it's ship-like…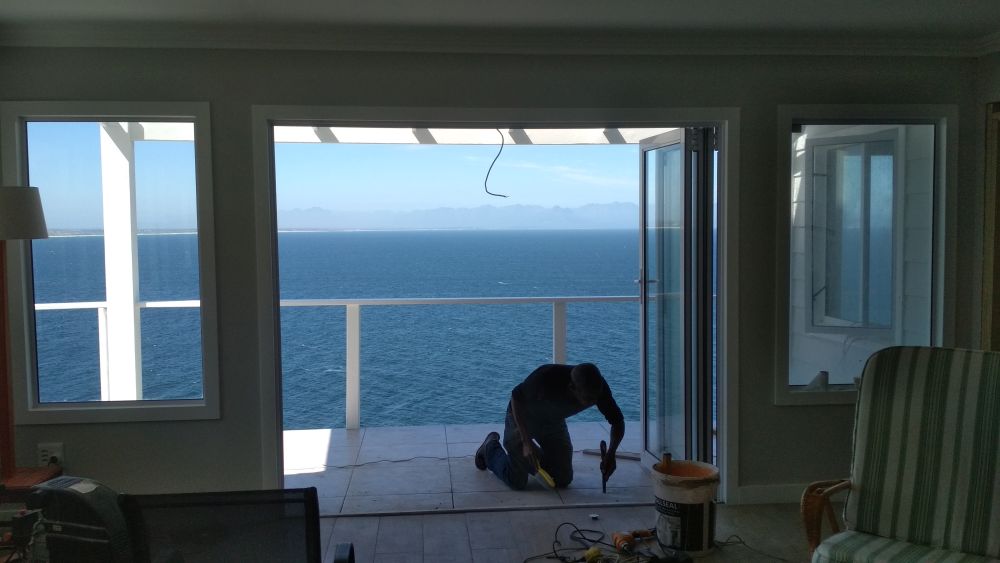 David took Julian to Honda to pick up his motor-bike. Julian rode it back and managed to stay aboard amidst unexpected gusts of wind.
The internet people came and moved the dish. We have internet on the top two floors and lower floors will be sorted tomorrow. Mike has been amazing in getting that sorted.
There is still a ton of stuff to be done before we can comfortably move across and not have workers under our feet. We'll camp there the weekend and see how it goes. Takes a LOT of work to build a house!
Covid numbers in the Western Cape –  257 new cases in the last 24 hours.
Covid 19 stats – South Africa
Friday 24th July – 13944 new cases (maximum we had in a day)– 250 deaths (245 771 recoveries/169 882 active)
Thur 8 Oct – 1736 new cases – 160 deaths (618771 recoveries/50712 active)
Fri 9 Oct – 1461 new cases – 139 deaths (620081 recoveries/50724 active)
Sat 10 Oct – 2544 new cases (ouch) – 126 deaths (622153 recoveries/51070 active)
Sun 11 Oct – 1575 new cases – 107 deaths (623725 recoveries/50926 active)
Mon 12 Oct – 888 new cases – 83 deaths (624659 recoveries/50837 active)
Tue 13 Oct – 1178 new cases – 165 deaths (625574 recoveries/50935 active)
Wed 14 Oct – 1877 new cases – 123 deaths (626898 recoveries/51365 active)
Total cases: 696414   Total deaths: 18151
Psalm 47:6-7
Sing praises to God, sing praises! Sing praises to our King, sing praises! For God is the King of all the earth; sing praise with a psalm!
The best is yet to come.
Keep the smile going.
God bless you.
In His Grip,
Helga xx 🙂
Braces:
1 year and 337 days