Saturday
Today's the day that….
Is said to be the worst for discomfort after orthognathic surgery. I woke up at about 1am with quite a lot of pain and took two of the breakthrough pain pills. I slept until 7am and then just before 8am, I took one of the breakthrough pills and one of the pills for severe pain. My body is just so not used to all this pain medication, it sends me into a complete fog. I had a Zoom call with my friends, which I managed for half an hour before telling them I was falling asleep!
Julian had come round to say good bye. David took him to the airport.
I took two more of the pills for breakthrough pain at lunch time. The rest of the day passed in a bit of a blur as I staggered around, spending most of my time dozing!  Anything that needed concentration was very difficult to achieve, although I did manage a few dishes and filled up the bottle with nectar for the birds.  Then I slept.
Mike has been a Trojan. Desperate for real food, he blended an avocado with some yoghurt for lunch. It was so good. For dinner, I had a three course meal. Ham and pea soup, blended til smooth, bowl of mashed potato and a smoothie with apple, banana, milk and ice cream. It all went down a treat. I'm now pretty full.
I think tomorrow, I'll set aside these crazy drugs and reach for Myprodol and see how they work. I'm anticipating the swelling to start subsiding. The bruising has been hectic, but that too will start dissipating.
It's crazy….as the sun sets here in Cape Town on what is the longest night of the year, I'm finding myself dozing off in front of my computer and it's only 6:15pm!

Sunset…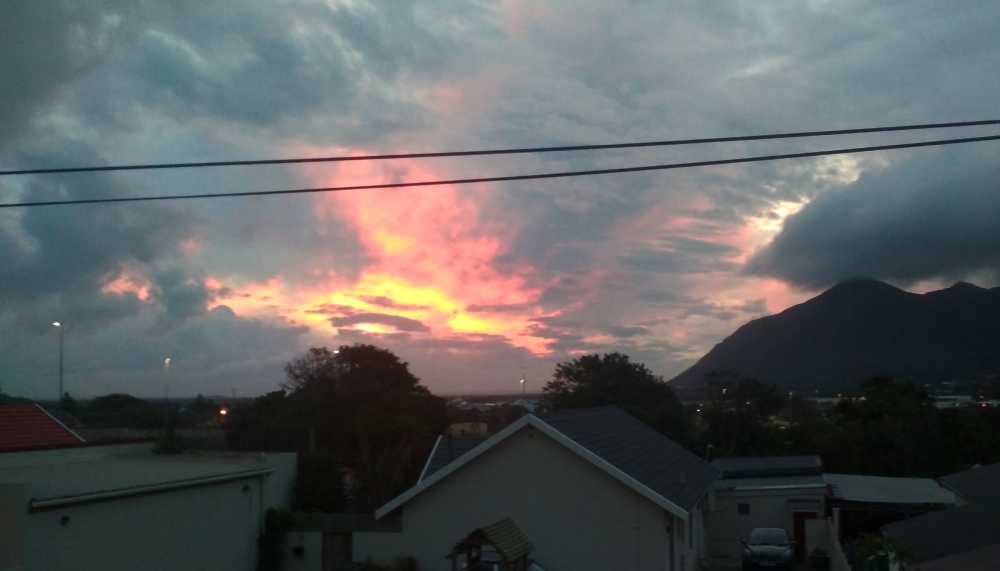 Another special thing about today is that it is Stacey and Adrian's 11th wedding anniversary. Such happy memories of 20th June 2009. ❤
Corona Stats – June 2020
Friday 12th  – 3359 new cases – 70 deaths (35006 recovered/25567 active)
Saturday 13th – 3809 new cases – 69 deaths  (36850 recovered/ 27463 active)
Sunday 14th – 4302 new cases – 57 deaths (38531 recovered/30027 active)
Monday 15th – 3495 new cases – 88 deaths (39867 recoveries/32098 active
Tuesday 16th – 2801 new cases – 57 deaths (42063 recoveries/32646 active
Wednesday 17th – 4078 new cases – 79 deaths (44331 recoveries/34407 active
Thursday 18th – 3478 new cases – 63 deaths (44920 recoveries/37233 active
Friday 19th – 3825 new cases – 94 deaths (47825 recoveries/38059
Total cases: 87715. Total deaths: 1831
Romans 5:2
Through Him we have also obtained access by faith into this grace in which we stand, and we rejoice in the hope of the glory of God.
The best is yet to come.
Keep the smile going.
God bless you.
In His Grip,
Helga xx 🙂
Braces:
1 year and 220 days