Thursday
Today is the day….
I got home from the hospital after a very successful operation to realign my jaw. For 40 years this has needed to be done and now it has been! The operation was quicker than expected which was amazing. My first post-op photo taken at 10:56am on the day of the operation. I had gone in at 8am and this was back in the ward…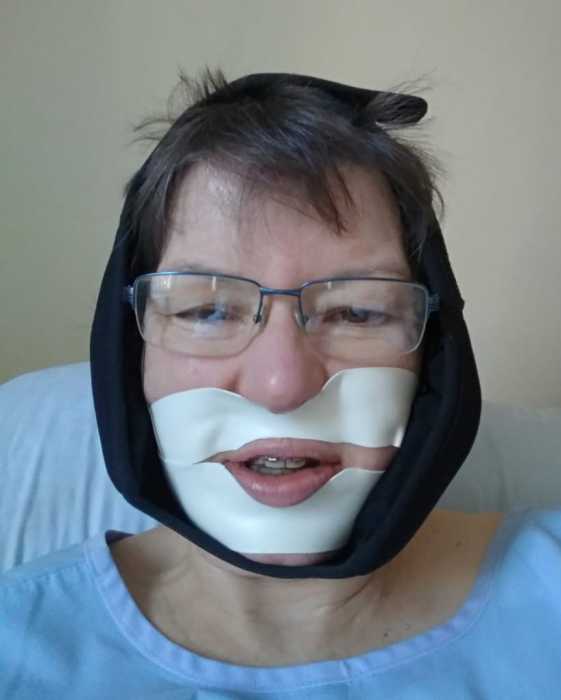 The doctor was really pleased with my recovery….until today that was when he started being inundated with calls from my family complaining I was confused and disorientated. I've never taken a sleeping tablet in my life, so it doesn't take much to knock me out. Early this morning, I was given a super duper pain cocktail intravenously and it turned me into a zombi. I couldn't articulate anything. All I can remember saying is "I'm confused!" Mike phoned me and was besides himself. He thought something had gone horribly wrong (with my brain!). Both he and Julian phoned the surgeon and he decided I should stay in another night (tonight!). He came to see me and did a basic neurological test and I was fine. A few hours passed and gradually I started coming out of my confusion! Mike and David had driven into town to see solar panels and on their way home came to the hospital. There are no visitors allowed of course, due to Covid-19 precautions. I stood on the third floor balcony and they stood on the street and we had a chat. They were so relieved because by then I was already speaking sense.  Another couple of hours passed and I decided to phone the surgeon and ask if I can go home this evening and he said YES! So Mike got in the car and made the 30 minute trip to pick me up. It was a sweet moment when I was checking out inside the hospital and I saw him standing right outside. I came out the door and threw my arms around him. There were a couple of witnesses to this embrace, so as I walked to the car, I said, 'there's no social distancing in our house!'  It's a crazy season not being able to have family inside the hospital at this time. Understandable, but still unpleasant.
Mike bought me home. Sue bought me flowers. Julian and David were there to welcome me. It was sweet. I felt very tired so slept for a couple of hours and then woke up and decided to update the blog.
So the op is over. The swelling is quite bad. The pain not too bad this evening and after my super duper pain cocktail, I'm veering on the side of caution and using the lesser pain meds for the moment. They have given me ice packs and boxes and boxes of medication for differing levels of pain, anti-inflammatories, antibiotics and probiotics. Then there's mouth antiseptic and lip balm. Covering all my bases. The bruising on my neck is surprising. It looks quite vicious. The ice backs help the swelling and are quite soothing.
So grateful to be sleeping in my own bed this evening!
Corona Stats – June 2020
Thursday 11th – 3147 new cases – 74 deaths (33252 recovered/24032 active)
Friday 12th  – 3359 new cases – 70 deaths (35006 recovered/25567 active)
Saturday 13th – 3809 new cases – 69 deaths  (36850 recovered/ 27463 active)
Sunday 14th – 4302 new cases – 57 deaths (38531 recovered/30027 active)
Monday 15th – 3495 new cases – 88 deaths (39867 recoveries/32098 active
Tuesday 16th – 2801 new cases – 57 deaths (42063 recoveries/32646 active
Wednesday 17th – 4078 new cases – 79 deaths (44331 recoveries/34407 active
Thursday 18th – 3478 new cases – 63 deaths (44920 recoveries/37233 active
Total cases: 83890. Total deaths: 1737
Acts 20:32
I entrust you to God and the message of  His grace that is able to build you up and give you an inheritance with all those He has set apart for Himself.
The best is yet to come.
Keep the smile going.
God bless you.
In His Grip,
Helga x 🙂
Braces:
1 year and 218 days