1-30pm
Regularly, on Facebook, you see people writing three things they are grateful for. They generally have been nominated by a friend and have to do it for 5 to 7 days. When I was nominated, I sat down and wrote down all 21 things I was grateful for. But as the days passed and I put up the posts on FB, I realised there were more as the days went by. It got me thinking how good a gratitude journal is. It's not necessary to display it all publicly, but I think it is beneficial, and hugely so, to have a book and to write down what has made you grateful during the day. It may not be 3 things. It may only be 1 or it maybe 4. It's a heart thing, that makes you look at the good in your life, instead of the negative. It's easy to see all that's bad in the world. It takes effort and intention to look at what is good.
We live by faith. We can't always see the good stuff. It's like my 'sea view.' From our bedroom balcony, we can see Noordhoek beach and the sea (in the distance). But over the last few years, trees have grown and there are a couple of them that now obscure the sea view….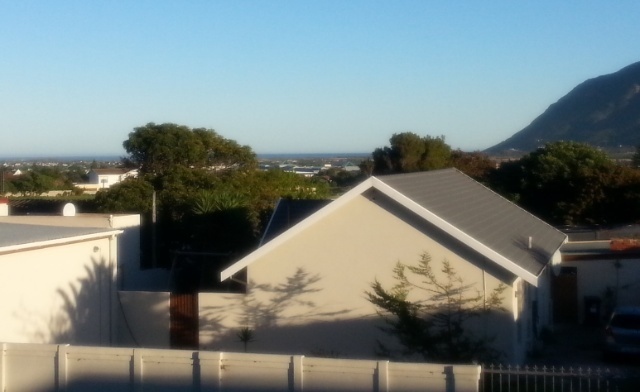 I know the sea is there and even if the trees blocked the entire view, I know the sea is there. And so it is with heaven. 2 Corinthians 4:18 says, "We fix our eyes not on what is seen, but on what is unseen. For what is seen is temporary, but what is unseen is eternal."
This is my list….
21 Things I'm Grateful For –
My salvation and my relationship with God – He sets my feet firmly on the ground and gives me security no one else can give. I'm grateful that I came to know the Lord when I was 14.
The Word of God – it guides me daily.
Many many many answers to prayer. Points 4-10 are a few of them.
My husband Mike. I strive to be better because of him and for him.
My children, Stacey and David – they are my greatest achievement and Adrian, who is a great son-in-law.
My brother, Julian – he has enriched my life more than he knows. And the memory of my older brother Arnold, who died too soon and who I miss very much.
The rest of my family – including my sister, Anne, nephew, Darryl and niece Jessica – their friendship and their welfare are both important to me.
My late parents, who have passed onto me my personality traits and writing gifts that bring me great joy! And of course the remembrance of Granny, who bought us much joy.
My friends. I have a fabulous bunch of friends – lots of laughter and joy.
Mentors – amazing women of God who have sown into my life and contributed to my spiritual & emotional maturity.
My cat – Truffles has bought us so much pleasure even if she does give affection on her terms!
My home – it has been a roof over my head for 25 years.I'm grateful for deep roots.
The privilege of being able to raise my family close to the beach.
The blessing of living in Cape Town. Sometimes I like to say, "I live in Cape Town" out loud! 31 years ago I came from landlocked Zimbabwe, yet I still am so grateful for Cape Town which is magnificent with mountains and sea.
Seasons, both the weather ones, that provide such variety for our world, but also for the seasons of life – sometimes life will feel a little cold, but warmth is coming.
Not having to get up as early as I once did. It's fabulous to be able to get up as late as 5am.
Maturity – I'm going to be 50! There are many who have not made it to this magical age. I'm mature! There is a great deal of self acceptance that comes with age.
My health! I'm so happy to wake up with no health problems and with a smile on my face and a song in my heart.
Contentment – because I have been 'learning to be content' for quite some time now, I'm beginning to be more content.
Daily occupation – now that I am no longer on the radio, I'm grateful for other things to do.
Technology – my computer, cell phone, the internet, Facebook, all add a flavour to my life that makes me be able to socialise without leaving the comfort of my home.
It's a great exercise to write down what you are grateful for on a daily basis. It makes you look out for things to appreciate and to simply learn to live life with an attitude of gratitude.
Someone who appreciates ALL that God has done for him is Hennie Otto. Yesterday, he won the Italian Open and gave the glory to God….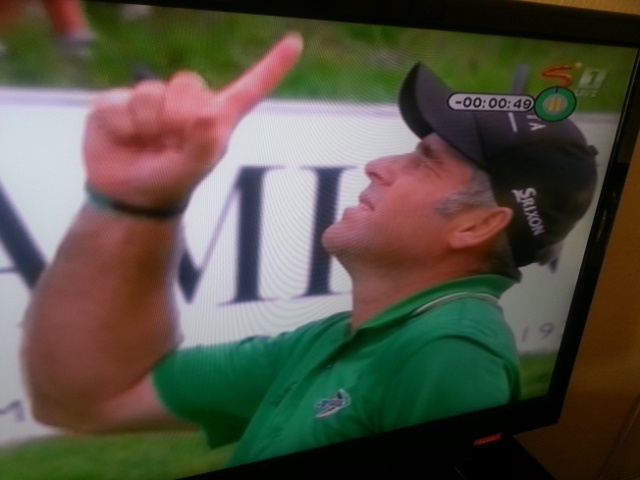 He has a story of anger and fury to tell… when you have been forgiven for much, you appreciate your salvation all the more…
The other thing to do ALL the time is keep your sense of humour and don't sweat the small stuff! I've been at home doing housewife things for 3 months and yet this morning Mike could not find socks! It was just after 5am. I jumped out of bed and said, "I can't believe it! I must be help you with this." I found him socks and he left for work shortly after. Later, when I'd got up, I found his socks and I put them in the cupboard…they are all black, so you can't really see that they are socks, but when he comes home, this is what he will see when he opens his cupboard…4 pairs of socks with labels…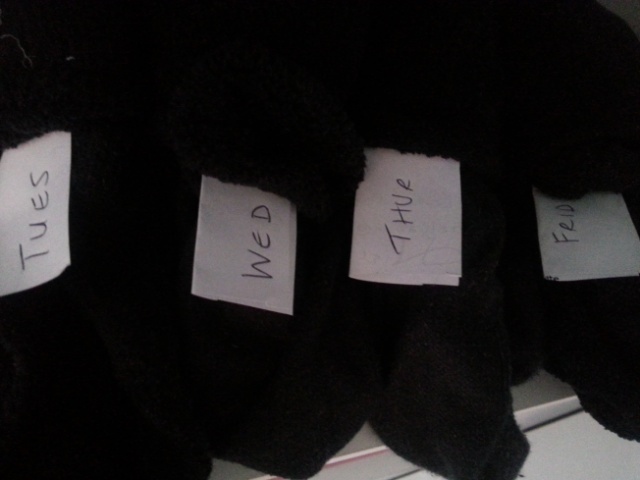 When you make work fun, life becomes an entertaining game! Can't wait for him to see them! And hey YOU…reading this at Mike's office…don't tell him! It will be interesting if he comes home having had someone come up to him saying, "So Mike, couldn't find socks this morning? Don't worry, your wife has got it sorted!"  When I was on air, he regularly told me the people at work know more about his life than he does!
Keep the smile going!
God bless you!
In His Grip,
Helga xx 🙂
Gratitude Pic for today….I stood on my balcony at 7am and joyfully admired the wonderful sunrise…