Mike would love to play golf in Switzerland, under tall mountains with grand lashings of snow on top. But who needs Switzerland when you have Swellendam! Maybe not hugely tall mountains and not a thick topping of snow, but mountains and snow none the less.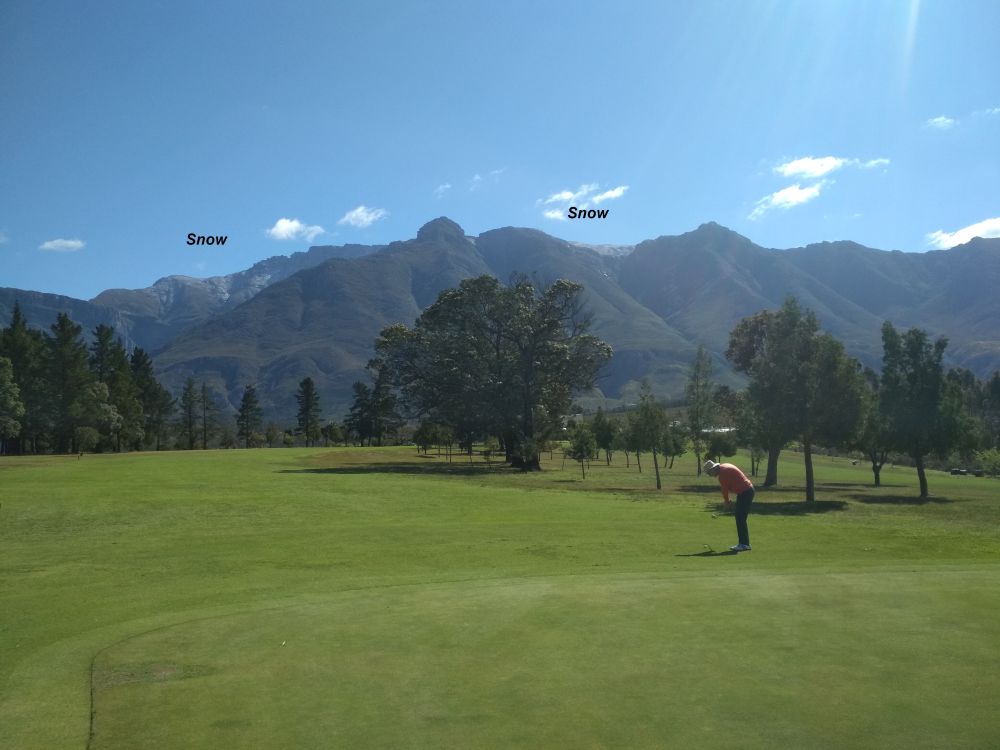 For me it was spectacular. I love Swellendam Golf Course. It probably is my favourite. I think I may even prefer it to Clovelly. It's very peaceful, with broad fairways and serene surroundings. The sun shone brightly and I'm sure the snow will be gone by tomorrow. Mike played very well and we both enjoyed it.
This afternoon, Stacey and Adrian went shopping while Mike and I babysat. Elsie is such a joy. She is looking more like Adrian.  She is grabbing onto things, laughing, smiling, cooing and babbling. She also has taken her cry to a new and more mature level. She has a fine pair of lungs. She's such a pleasure to look after.
#895 of my 1000 thanks is for the opportunity to sit and rock Elsie on the rocking chair I used when Stacey was born. In fact, Mike gave it to me as a Christmas present when Stacey was 3 weeks old. He hid it in plain sight and gave me a card for Christmas 1987 which said something like, "Happy Christmas. This is to wish you good chair!"
This evening, Adrian's Dad joined us for a braai. It was a wonderful meal.
Ephesians 5:15-17
Be very careful, then, how you live – not as unwise but as wise, making the most of every opportunity, because the days are evil. Therefore do not be foolish but understand what the Lord's will is.
These are the days.
Keep the smile going.
God bless you.
In His Grip,
Helga xx 🙂