Wednesday
I guess it is a Red Letter Day. We have had visitors in the guesthouse before but never paying ones! This is a first and while we did our best to get it as ready as we would for other guests, when on Airbnb you can get bad feedback, so we want to try to avoid that. Anyway, I hope they have a good time and they are comfortable. It is a lovely little cottage and I'm excited to be able to share it.
Needless to say, today has been a busy day. Work was also very busy, so I did some of that before the beach. Because I work for a British based company, there's no public holiday for me today, although, had I arranged it, I could have taken the day off.
The sea was gloriously flat this morning and swimming was easy. The tide was on the high side. I swam to the barrel and back and then up and down a bit. I just love swimming in the ocean. One of the things that is happening at the moment is that my core body temperature drops drastically when I get out the water. While walking home, my feet and my fingers are frozen. I am trying to improve this by changing after the swim and then layering on the clothes. This morning I had on two pairs of socks, my jacket and gloves! The gloves helped. The socks made my frozen feet feel they were a little more padded but still numb!  Early morning at Fish Hoek beach…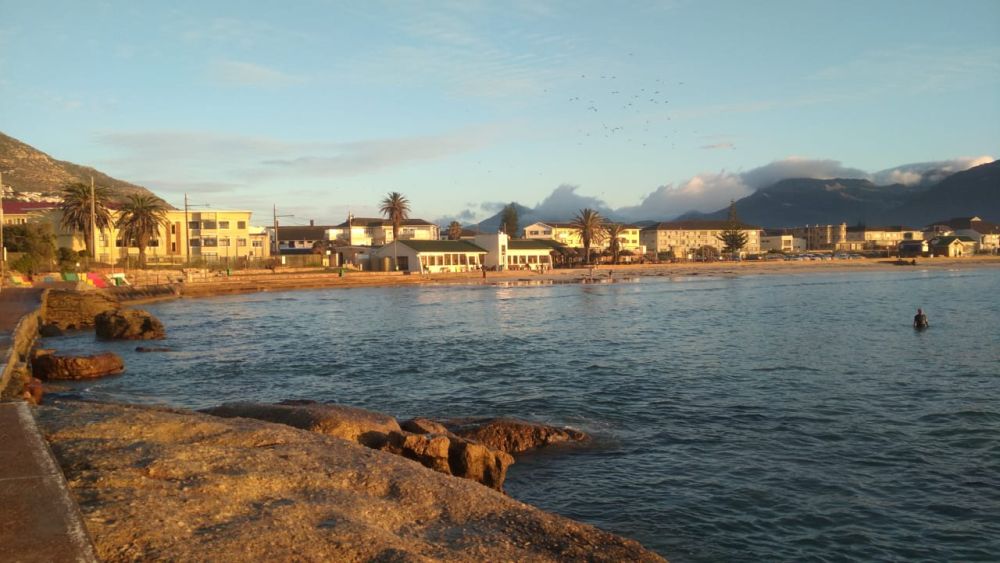 Julian arrived yesterday so this evening we are going out for dinner. I think we will get some walking done first.
I've pretty much got my to-do list done and now the blog is complete, I can kick back and relax.
Psalm 37:34
Put your hope in the Lord. Travel steadily along His path.
One day at a time – one step at a time.
The best is yet to come – we are only passing through.
Keep the smile going.
God bless you.
In His Grip,
Helga xx 🙂