I've tried a recipe like this before, but the meringue base didn't come out as well as I would have liked – it was a bit too chewy. I got this from LCHFplan.com which is a great resource.  (Thanks to Sybil for sending me the link!) I think it is a wonderful Christmas dessert. My comments are with a *
LCHF Pavlova (from LCHFplan.com)
8 servings
Meringue
4 egg whites
8 T sweetener (I used 4 T Sukrin and 4 T Sukrin Gold. Sukrin is the de facto standard of LCHF sweeteners in Scandinavia and many European countries but it is not yet widely available in the US. I like to always combine two sweeteners to counteract any potentially weird aftertaste) *Helga's comment: I'm not sure if you are going to find this in South Africa but you may want to experiment with xylitol – go easy on it – it's a lot sweeter than sugar – 8 tablespoons may be too much)
1 t vinegar
Whip the egg whites until they are very stiff and form peaks. You should be able to turn your bowl upside down without the egg whites moving. Add the sweetener one T at a time, whipping after each T. Fold 1 t vinegar into the egg white form and spread the foam on oil greased parchment paper. I used a standard size cookie (*Swiss role)  sheet and filled it pretty much to the edges. (Tip: I used a little of the foam to form a smaller "test" meringue on a separate sheet which allowed me to test if my meringue was done without messing with my Pavlova)
Dry in oven approximately 50 minutes. I used convection heat, 225 degrees (*very cool heat about 110C)
The meringue appears soft when you remove it from the oven but when it is left to cool on a rack, I will develop a "crispy" surface.
It does NOT taste exactly like a meringue made with sugar because no sweetener has the caramelizing properties of sugar. I would say that it came out as a mix between meringue and an angel food cake – but with the cream and the berries it was delicious!
Cream
2 egg yolks
3 T sweetener (I used 2 T Sukrin Gold and 1 T Sukrin)
1 t vanilla powder
2 cups heavy whipping cream
Whip the egg yolks with the sweetener and vanilla until light yellow and airy. In a separate bowl, whip the heavy cream to a whipped cream. Fold the whipping cream gradually into the egg mixture.
Spread the cream evenly on top of the meringue and add berries on top. I used about 32 oz of berries: strawberries, blueberries and blackberries.
8 servings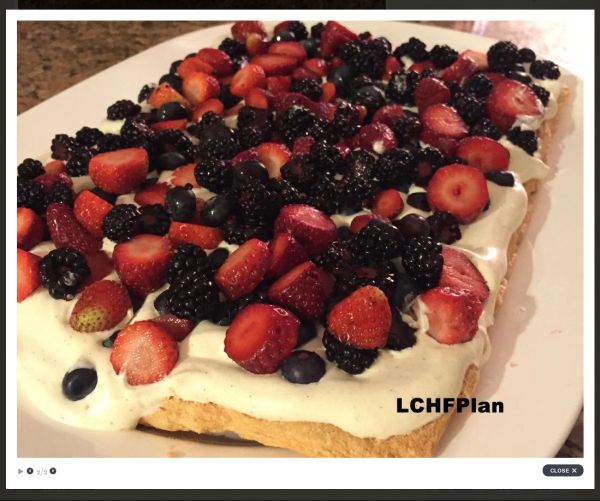 Remember this is not from Helga but from LCHFplan.com. I'm not into plagiarism, more into promoting! 🙂
#109 of my 1000 thanks is that today Jack and Eden are getting married! 



Proverbs 18:22
He who finds a wife finds what is good and receives favor from the LORD.
Yay!
These are the days!
Keep the smile going.
God bless you!
In His Grip,
Helga xx