Wow, it doesn't get better than this for an easy snacky kind of low carb treat.
Bacon Wrapped, Cream Cheese Stuffed Chicken Breasts:
1 boneless skinless chicken breast
2 tablespoons cream cheese
1 tablespoon green onion, Chopped
2 pieces bacon, Partially Cooked
Directions:
Pound out Chicken breast so it is about 1/4″ thick.
Mix together cream cheese and green onions and spread cheese mixture over 1 side of chicken breast.
Roll Chicken breast up to conceal cream cheese.
Wrap partially cooked bacon around chicken breast and secure with toothpick.
Place on baking sheet and back for about 30 minutes at 190C.
Broil for about 5 minute to crisp bacon.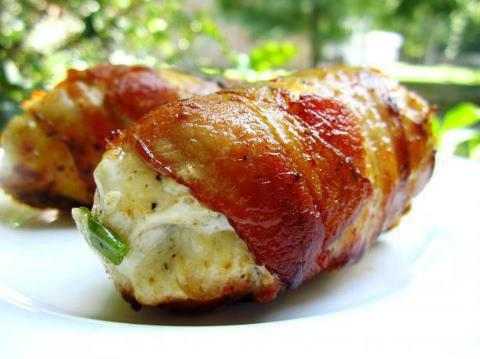 With this being my Saturday Banting recipe day, I won't say too much more except that today has seen the light at the end of the tunnel as far as work goes. Just for my record, I have worked at least 65 hours this week. I don't know how that happens, except to say I cancelled a lot of appointments to get the work done and now it is. There are a few more things I need to do tomorrow to be prepared for the week ahead, but for this evening, we are off to a 21st, which is going to be a great distraction.
#51 of my 1000 thanks is the paperwork is almost, almost done. I told Mike I was almost euphoric!
Amidst all this work and no small amount of accompanying stress, Mike asked, 'are you enjoying it?' I replied, "I do enjoy it but when the deadline is tight like this and the amount of work is really so high, it's hard to be really happy about it. " I went onto say that if he hears hysterical laughter coming from me, I won't be laughing at something funny – I'll be laughing because it's so overwhelming that there's nothing else to do, but to laugh out loud in the hope of not going out of my mind!
Some may ask what am I doing?
I'm was preparing the paperwork for 33 applicants (I took Jo'burg and Cape Town – my colleague took the remaining 16 in Durban) who are being interviewed this week for teaching jobs in the Middle East. We needed to present the documents in a certain way and after I had done the whole lot, about 80% had a margin trimmed off an application form and I had to redo them all! There are 4 documents per person and each had to be formatted and changed into a PDF and then merged – there were multiple steps. But we have now met our deadline and I'll fly to Johannesburg tomorrow night for the first interviews on Monday.
#52 of my 1000 thanks: Yay! I have a job.
Psalm 136:1
Give thanks to the LORD, for He is good. His love endures forever.
Enjoy the bacon and chicken rolls.
These are the days!
Keep the smile going!
God bless you!
In His Grip,
Helga xx 🙂