Sunday
Today was the day…
Of Tweede Nuwe Jaar. The day Cape Town, particularly, celebrates the second day of the new year. The day was spectacular – as brilliant and windless as it was on 2nd January 1983. That was my first Sunday in Cape Town – 38 years ago on this day –  it was the day I caught a bus from Woodstock to Kenilworth to go to St James Church. I recounted the story on this blog, back in 2016. There were two parts:
It was also a Sunday and the weather was as spectacular as today. What I remember so vividly about that day was being on the back of a motorbike and going over Chapman's Peak Drive. As we rose to its height and I looked out over the incredible vista of ocean and mountain that lay before me, I physically pinched myself. "Is this really possible?" I thought, "That of all the places in all the world, God would bring me to this?" I was awestruck by its beauty and the fact that it was the city that I would get to call home. No wonder I don't want to live anywhere else. The thought that came to my 18 year old self is tattooed forever in my brain.
Today was that kind of glorious day. The beach was vibrant with activity.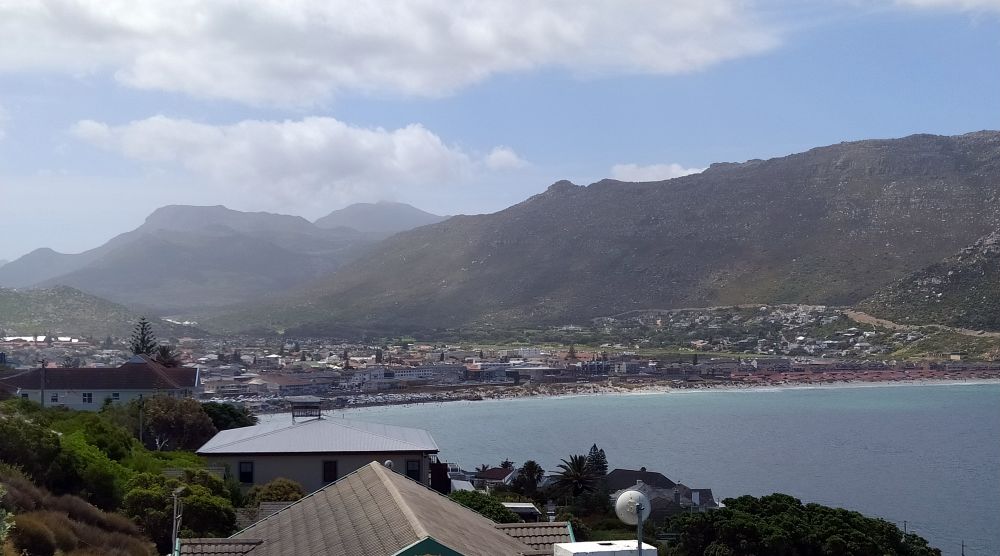 We didn't go for a swim though. We had more urgent matters to attend to. The Little Lookout folk were leaving and others were coming. The new (German) couple had not committed to staying though. They had inquired only and they were coming first to test the internet. If the internet worked to their satisfaction, they would stay for the week and possibly longer.
About that internet thing! When Jess and Gerrie came for Christmas, we were horrified to learn the internet in the Little Lookout was pretty bad! What?! None of the guests had ever complained. Yesterday, when we got the inquiry from the German pair, I messaged the Russian lady who was staying there and asked how the WIFI was. She said it was okay but her phone had trouble connecting and the TV was a bit difficult to get connected. Oh flip.
Early this morning, Mike was down in the workshop, trawling through boxes of equipment, looking for cable to 'make a plan' or 'do a McGyver' as he likes to say. At just after 9, the current couple checked out and at 9:30am, I went down to do the clean. Mike meantime had his plan well under way and after feeding cable through to the Solar room, he connected all that was needed and as my cleaning came to an end, he was ready with his laptop to do the big test. It was terrific! I sent him to test it in the bathroom to see if it worked there too and it was just as fast. In my enthusiasm, I wrote the names of the incoming Germans on the welcome board. At just after 12:30pm, they arrived. They noticed their names and laughed at my presumption. Out came their laptops; the password was given and the test was done. A big smile spread across his face, "yeah, this is good," he said. He went onto tell me that he had told the company he works for in Germany that they won't even know he is out the country. Then he had WIFI woes on the Garden route, so was concerned.  The other thing that impressed them no end was the amazing view from the LL. They immediately said they wanted to stay until 26th January. I unblocked the calendar and they put their reservation through.
So it's been quite a day, with some relaxing this afternoon and a walk to Fish Hoek for a few groceries.
Tomorrow, I am due to go back to official work.
Proverbs 19:21
Many are the plans in a person's heart, but it is the Lord's purpose that prevails.
Absolutely.
The best is yet to come – we are only passing through.
Keep the smile going.
God bless you.
In His Grip,
Helga xx 🙂