In 2012, on our 26th wedding anniversary, I wrote a blog of 26 reasons why we have a fabulous marriage. Today, I can add 6 more, seeing as we have been married 32 years!
We have the same faith.  On our wedding invitation, we invited people to witness the 2nd most important decision of our lives, the first being our commitment to the Lord Jesus Christ.
2. The Bible is the basis for our life together. We trust & live by God's Word.
3. Unconditional acceptance of  each other has been important to us
4. We have the same financial values, including the importance of tithing. We have a similar perspective when it comes to money & possessions. All we have comes from God.  Neither of us are big spenders and both of us come from humble origins.
5. We have learnt to both want the best for each other.
6. Commitment – divorce is not an option.
7. We don't talk to others about any issues within our marriage.
8. Sex has always been a priority! ?
9. We always resolve conflict as quickly as possible.
10. We apologise when things go wrong.
11. We respect for one another's individual talents and gifts, desires and dreams.
12. If we are under the same roof, we are in the same bed!
13. We compromise.
14. When we were newly wed we had vast differences but over time have embraced those differences to such an extent that now we are more similar. It's been like two trees planted a little distance apart that have grown toward each other over time. Now our branches are interlocked.
15. We appreciate each other.
16. We say kind words to each other – and give lots of affirmation, regularly, in fact, daily . It's constant building up of one another.
17. We do not criticize each other in public – in fact there is very little criticism between us at all.
18. We always give thanks to God together for the food we eat.
19. We have consistently and intentionally valued and honoured our parents.
20. From when they were very young, we committed our children entirely to God, asking Him to be responsible for their spiritual well-being. Our children are in God's hands. We both have intentionally been 'on the same page' when raising Stacey and David.
21. We like spending time together.
22. We both enjoy the outdoors.
23. We are both hopeless romantics!
24. We are best friends & each others biggest fans.
25. We communicate well.

26. We are flexible when it comes to each others time, allowing each other the opportunity to do the things each of us want to do.

27. We work together on certain projects, like travelling.

28. We have an evenly balanced division of labour.

29. We make each other laugh.

30. We serve each other.

31. We consult each other when making decisions.
32. We acknowledge that God is the Beginning and End of our marriage. It is our testimony that God has done all of this. He has fulfilled all that we requested of Him on our wedding day. Nothing of these attributes are to our credit at all. They are a gift from God that we daily enjoy. The Bible verse for our marriage together has always been "Unless the Lord builds the house, they that build it labour in vain". (Psalm 127:1) This is our testimony. It is true.

#750 of my 1000 thanks is for 32 years.
As I look back on the last year, it has been eventful.
A year ago today, the cottage was broken into and Morgan's laptop was stolen. After 4 more intrusions, we managed to have got our home secure enough for them to give up and we went on holiday for a month. Not long after we got back, Mike had a blood vessel get blocked behind his left eye and needed a series of injections which worked brilliantly to restore the vision in that eye.
Our first grandchild was born! 

Mike had the scare of a mass on his thyroid which gratefully is benign. Right now we are finalising plans for building a house on a mountainside. We trust the Lord for the twelve months ahead.
Hebrews 11:1
Faith is confidence in what we hope for and assurance about what we do not see.
What an apt verse for today. This is us at dinner this evening. 🙂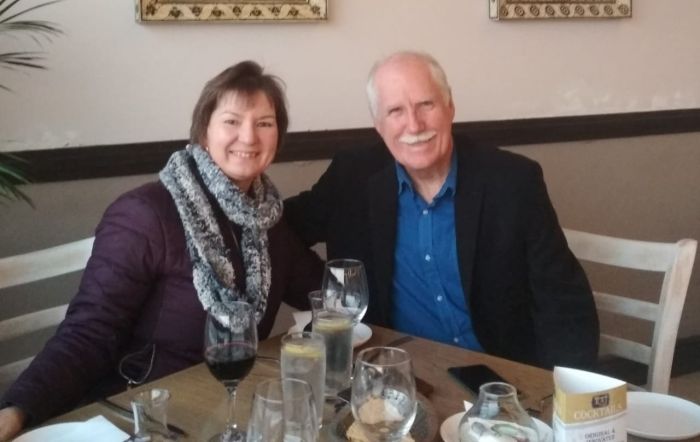 These are the days.
Keep the smile going.
God bless you.
In His Grip,
Helga xx 🙂
Gym:
Fast walk 23 minutes
The Grid 32 minutes
1 minute on the bike – got my heart rate recorded at 138
6 minutes on the stepper.